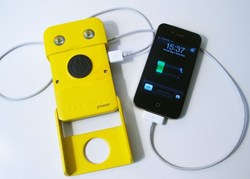 Nearly 1/4 of the planet is living without acces to safe light. Grid Earth is working with WakaWaka to change that.
Georgetown, TX (PRWEB) August 08, 2013
Grid Earth is working with WakaWaka to end energy poverty in our lifetime, while saving lives and improving health. WakaWaka Lights promote education and increase economic opportunity for thousands of families worldwide.
With a Waka Waka Power you can charge your smartphone or other USB devices with the power of the sun. The WakaWaka Power also includes a quick charge input for AC charging when available. You can learn more about it here.
It is a great product for recreational use of all kinds as well as a must have for emergency use during storms, power outages and any natural disaster.
Your organization can make the WakaWaka Power available through your website, share it on email, Facebook, Twitter or Pintrest with your members, family and friends. Automatic tracking through embedded coding record any order placed by or originated from your organization, anywhere in the world. Your organization receives a monthly donation in direct preportion to the number of orders placed.
There is no investment, handling or delivering. Just spread the word about this great product and the work being done by Grid Earth and WakaWaka worldwide, bringing light to those living in darkness. The rest is automatic. Every order helps to benefit a family in need.
For more information on how your organization can join in this effort and participate in the Web-Based Fundraiser contat us .