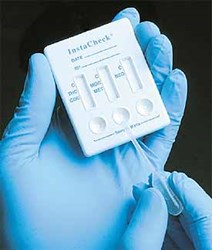 A drug test... is a tool to instill confidence in an employer that the new employee shares a similar work-ethic and will become a productive and worthwhile contributor to the business model.
Elk Grove, CA (PRWEB) August 09, 2013
HireSafe - With employers pushing for more drug screening nationwide, just why exactly are job recruiters placing such an emphasis on this portion of the hiring process more than ever? A Quest Diagnostics report shows drug abuse is on the rise and considering the monetary liability companies risk hiring these individuals, they simply cannot be ignored.
Employers' demand for pre-employment drug testing is nationally on the rise, and it's no coincidence that positivity rates are also paralleling the increase, which was up 5.7% in 2012 compared to 2011 (Quest Diagnostics, March 7, 2013). Many would posit that an increase in drug testing is an intrusive move on privacy, but there are valid business reasons as to why drug testing should be an integral component of the hiring process.
Drug screening is imperative to the hiring process for any occupational or commercial field of endeavor. Al Firato, CEO of HireSafe states, "A drug test is an insight into an individual's life choices, which is indicative of their behavior. When coupled with the professional needs of a workplace, a drug test isn't an invasion of privacy or violation of one's civil rights. It is a tool to instill confidence in an employer that the new employee shares a similar work-ethic and will become a productive and worthwhile contributor to the business model."
Statistically the productivity of employees who abuse drugs or alcohol is many times lower than that of an employee who does not. Employees who abuse drugs are 2.2 times more likely to request time off, 2.5 times more likely to be absent eight days or more, three times more likely to be late, 3.6 times more likely to be involved in a workplace accident and almost five times more likely to file a Workers' Compensation claim (Department of Labor, 1987).
Drug abusing employees demonstrate a higher propensity to workplace accidents and are disproportionately less productive. The U.S. Department of Labor estimates that employers lose an incredible $75 billion to $100 billion because of accidents, loss of productivity, health care and Workers' Compensation costs (The Press Enterprise, June 20, 2012). Not measured is the impact upon the moral within the workforce as well as the need to alter schedules to accommodate for Substance Abuse Programs and rehabilitation.
From these statistics employers have a reasonable fear of placing drug abusers on their payroll. With the continuing business demands for viability and competitiveness, every employee must be the very best an employer can find. There is no upside to hiring a substance abuser whom by their lifestyle choice brings a statistically higher chance of becoming a serious financial liability.
The reasons for employers to implement a drug-free workplace policy are many, and one of the best sources is the federal Drug-Free Workplace Program. If a company is seeking to receive any federal projects or grants, a Drug-Free Workplace Policy is mandatory. Outside of the federal mandates, many states across the country have implemented similar laws for state projects and grants which represent a "best practice" for any business.
Eleven states offer a premium discount on workers' compensation for companies that implement a Drug-Free Workplace. These states are: Alabama, Arkansas, Florida, Georgia, Hawaii, Idaho, Mississippi, Ohio, South Carolina, Tennessee, Virginia and Washington (Business Insurance, 2006).
This view on drug-free workplace isn't just held by the individuals making the hiring decisions; it's also shared by the applicants and employees themselves. In a Gallup survey, 95 percent of employees favored safety-sensitive jobs being drug tested. Health care workers garnered 92 percent favorability for drug testing, as well as office workers were at 69 percent agreement. Most importantly to note is that a 78 percent majority favored drug testing individuals working in their own occupation (EHSToday, December 12, 2002).
HireSafe is one of the nation's highest rated background screening companies, listed A+ by the Better Business Bureau. In operation since 1997, HireSafe is a full-line provider of Human Resource solutions, including Employment Background Screening, Drug Testing, Form I-9 Document Management with E-Verify and Applicant Tracking including Social Network Recruiting. As a CA licensed Private Investigative Agency (PI #25313), HireSafe provides only responsible, professional and FCRA compliant reports to their clients.