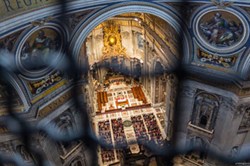 Vatican City has become even more popular both for tourists and those making religious pilgrimages.
Indianapolis IN (PRWEB) August 09, 2013
There is lots going on in Vatican City and Tekton Ministries is excited to be a part of it.
Although Tekton specializes in developing pilgrimages to the Holy Land, being a full service pilgrimage company, they are putting together special packages to Rome in the wake of dramatically increased interest in the Vatican.
According to Richard Sontag, Tekton president, interest in the Holy City escalated sharply after the Vatican announced recently that Pope John Paul II would soon be canonized. (USA Today)
"Catholics around the world are excited about this because it is happening only a short eight years after his death," he said. The path to sainthood in the Catholic Church normally takes decades. John Paul II was arguably one of the most popular popes in church history, serving from 1978 to the time of his death in 2005.
"The Vatican has also announced that Pope John XXIII, who oversaw the Second Vatican Council, will also be canonized just in time to commemorate the 50th anniversary of the Second Vatican Council (1962-1965)," Sontag added, pointing out that interest in visiting the Vatican has increased dramatically in recent months.
"It started when Pope Benedict XVI announced his retirement from the Papal throne," he said, "and with the election of Pope Francis, it has become even more popular, both for tourists and those making religious pilgrimages."
Sontag pointed out that after Benedict announced his retirement, there was a huge increase in the number of visitors to St. Peter's Square. "More than 200,000 faithful were there for his final audience," he added.
No date has been announced for either pope's canonization, but hints from the Vatican imply it may be as soon as April of 2014.
Itineraries for trips include opportunities to tour the City of Rome, a general Papal audience, and visits to the Sistine Chapel and the fabled Vatican Museum. The museum itself has long been a favorite destination for visitors, Sontag said, "with priceless works of art depicting the long history of the Catholic Church." He pointed out that for hundreds of years, art was created only when sanctioned by the Church. "And many of these masterpieces are in the Vatican museum."
More good news for travelers is that airfare and hotel prices in Rome have declined in recent months. "This makes a pilgrimage today an even more attractive opportunity," Sontag said.
More information is available at http://www.tektonministries.org.