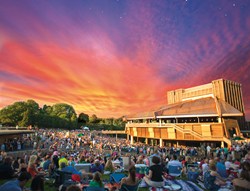 Vienna, VA (PRWEB) August 08, 2013
Carly Rae Jepsen
Hot Chelle Rae
Wednesday, August 28, 2013 at 7 pm
$30-$42
After skyrocketing to stardom and the top of the charts with the smash hit "Call Me Maybe," Grammy nominee Carly Rae Jepsen will make her Wolf Trap debut. While growing up in Canada, Jepsen was greatly influenced by music. In 2007 she competed on Canadian Idol and successfully came in third place. The following year she released her debut album, Tug of War, and received two Juno Award nominations. Jepsen's big break came in early 2012 when pop singer Justin Bieber heard her single "Call Me Maybe" on the radio in Canada. The result changed Jepsen's life. Bieber's manager Scooter Braun helped to get Jepsen signed to his record label, School Boy Records, as well as Interscope Records. Most recently, she released Kiss in 2012, which features the hit singles "Good Time" with Owl City and "Tonight I'm Getting Over You."
Video: Carly Rae Jepsen – "Call Me Maybe"
Pop/rock foursome Hot Chelle Rae will bring their upbeat sound, which has spawned national radioplay, to the Filene Center. The band formed in 2005 in Nashville and is composed of brothers Ryan Follesé (lead vocals and guitar) and Jamie Follesé (drums), along with Nash Overstreet (lead guitar) and Ian Keaggy (bass guitar), who all come from musical families. They released their first album, Lovesick Electric, in 2009, but it was 2011's Whatever that brought them great success. The album features pop favorites "Tonight Tonight" and "I Like it Like That." Early in 2013 Hot Chelle Rae released the single "Hung Up" and is scheduled to release an album later this year.
Video: Hot Chelle Rae – "Tonight Tonight"
An Evening with Lyle Lovett
and His Large Band
Thursday, August 29, 2013 at 8 pm
$25-$42
The winner of four Grammys, alt-country musician Lyle Lovett brings his genre-bending music to the Filene Center. Lovett's music features a mix of country, blues, gospel, and swing with a touch of unique storytelling and humor. His many hits include "If I Had a Boat," "She's No Lady," and "Private Conversation." A native of Texas, he began writing and performing songs, while still a student at Texas A&M. In 1986 Lovett released his self-titled, debut album to critical acclaim. Since then he has released a live album and 10 other studio albums, including 2012's Release Me. When not making music, Lovett can be found acting in films such as Fear and Loathing in Las Vegas (1998) and Walk Hard: The Dewey Cox Story (2007).
Video: Lyle Lovett and His Large Band – "Church"
Sing-A-Long
Sound of Music
Saturday, August 31, 2013 at 7:15 pm
$20-$38
Musical fans of all ages can enjoy one of the most beloved musical films of all time in its entirety at Sing-A-Long Sound of Music. Complete with a pre-show costume contest, Sing-A-Long Sound of Music is an interactive experience in which the Oscar-winning film is shown on huge screens in-house and on the lawn. Attendees are given complimentary goodie bags before the screening, which contain fun props that can be used during the participatory movie. Set in 1930s Austria, The Sound of Music is the timeless story of nun-to-be, Maria (Julie Andrews), who becomes a governess to the seven children of Navy Captain Georg Von Trapp (Christopher Plummer). Through a series of both joyful and solemn events, viewers are reminded to "Climb every mountain…Til you find your dream."
Video: Wolf Trap Presents: Sing-A-Long Sound of Music
STS9 & Umphrey's McGee
with Up Until Now
Sunday, September 1, 2013 at 7 pm
$35-$40
Making its Filene Center Debut, STS9 (Sound Tribe Sector 9), will play its innovative electronic/pop/rock music that jam band aficionados all over the country have come to love. The instrumental rock band released its debut album, Interplanetary Escape Vehicle, in 1999 and established itself in the jam band scene. Since then, STS9 has played at some of the biggest music festivals in the world, including Bonnaroo, Coachella, and Lollapalooza. Most recently, the band released When the Dust Settles (2011). The EP peaked at No.1 on the iTunes Electronic chart.
Video: STS9 – "Breathe In"
Pop/rock band Umphrey's McGee, known for its jam band style and psychedelic light shows, brings its rocking originals and creative covers of anything from Toto to Metallica, to the Filene Center. Formed in 1997 at the University of Notre Dame, Umphrey's McGee released its first album, Local Band Does O.K., in 2002. In 2006 the band began making recordings of every show. A year later they released 2007's The Bottom Half, which reached No. 7 on the Billboard Heatseekers chart. Mantis (2009) also had considerable commercial success, even charting on the Billboard 200. Most recently, the band released Death by Stereo (2011) and continues to make every show an interactive experience for fans.
Video: Umphrey's McGee – "Puppet String"
Electronic duo Up Until Now will perform its cross-genre music on the Filene Center stage. Founded by Jay Murphy who has a background in melding reggae, world music, rock, hip-hop, and more since the early 2000s, Up Until Now also features drummer Kyle Holly. Since its inception, the band has released three albums, including 2012's The Pleasure Sessions EP. Up Until Now has performed with many other artists, including Jon Barber of the Disco Biscuits, and has opened for performers such as Snoop Dogg, Bonobo, and Emancipator.
Video: Up Until Now Ft. David Murphy at House of Blues - Interview and Live Footage
Tickets can be purchased by calling 1.877.WOLFTRAP or online at wolftrap.org. For more information, call Wolf Trap at 703.255.1868.
High-resolution images of the artists listed are available on Wolf Trap's website: wolftrap.org/Media_and_Newsroom/Photos_for_Publication.aspx.
Wolf Trap is Metro accessible!
Our environmentally friendly Wolf Trap Express Bus travels from the West Falls Church Metro stop every 20 minutes starting two hours prior to show time. For details, please visit wolftrap.org/Plan_Your_Visit/Access_by_Metro.aspx.