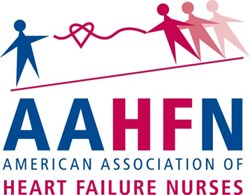 Mount Laurel, N.J. (PRWEB) August 08, 2013
The American Association of Heart Failure Nurses (AAHFN) is pleased to announce the winners of the 30-Day Readmission Award. The award recognizes heart failure (HF) treatment programs that have shown exceptional performance in the management of heart failure patients through significant reduction in patients' readmission rate within 30 days following hospital discharge.
Each year, one million Americans are hospitalized with heart failure and within 30 days of going home, a quarter of them will be back in the hospital again. Reducing 30 day readmissions is a nationwide issue and goal for all hospitals due to the threat of fines and cuts to their Medicare.
The following hospital and healthcare systems were presented with this year's awards.

Small Size Medical Facility-less than 250 beds
The Chester County Hospital, West Chester, Pa.
A representative of The Chester County Hospital, Terri McClure, RN, CHFN, believes that communication between a medical professional and patient greatly affects the rate of readmission, "Communication is the key, both verbal and written," McClure said. "The patient needs to know who to call and be comfortable expressing themselves. I find out a lot about a patient by just listening to them – about their lives and who they are."
Medium Size Medical Facility-250-500 beds
Northwest Community Hospital, Elgin, Ill.
Karolee Fill, RN, MSN, ANP-BC, CHFN, a representative of Northwest Community Hospital, says, "The personal goal I have for my heart failure patients is to positively impact their quality of life. As an organization, our goal is to prevent readmission. We have many initiatives for these patients to help prevent readmission to the hospital."
Large Size Medical Facility- more than 500 beds
CMC-Main (Charlotte) and CMC-NE (Concord) of the Carolinas Healthcare System, Charlotte, NC
Deborah Fenner of Carolinas Hospital, the large size medical facility awardee, says that their program stands by itself because of their teams and clinic abilities.
"The heart failure team is passionate about what they do and they care about the patients," said Fenner. "We have a longitudinal heart failure clinic that follows approximately 2,300 patients with advanced heart failure. Our physicians are board certified in heart failure and also manage the heart failure transplant as well as patients with ventricular assist devices (VAD)."
To be eligible for the award, applicants were required to meet various requirements.

The structure of the heart failure program consists of a multidisciplinary team in an urban or rural setting.
The strategies or process of reducing the re-admission rate should be innovative and based on the best available evidence, practices, or clinical guidelines.
The reduction in 30-day hospital readmission rate is significant and sustained for a minimum of six months after strategies/process implementation. A significant reduction in readmission is defined as a minimum 5% decrease in the applicant's hospital readmission rate at baseline.
AAHFN will host a summit in Philadelphia on October 12 that will focus solely on finding solutions to heart failure readmission cases. For more information on the Heart Failure Readmission Summit as well as its keynote speaker, Dr. Clyde Yancy, visit http://www.aahfn.org. Registration for this event will open in August.
Sponsors of this award included Critical Diagnostics and Roche USA.
About AAHFN
The American Association of Heart Failure Nurses (AAHFN) unites professionals in the support and advancement of heart failure practice, education and research to promote optimal patient outcomes. AAHFN is dedicated to advancing nursing education, clinical practice and research with the goal of setting the standards for heart failure nursing care. Find more information about AAHFN and the 30-Day Readmission program by visiting http://www.aahfn.org and following the association on Twitter at @AAHFN.
# # #