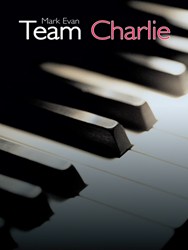 Team Charlie is a 'well-plotted novel where Evan finds tenderness, irony, and sly wit in Charlie's troubled journey'.
Irvine, CA (PRWEB) August 09, 2013
Imagine being surrounded by constant voices in your head.
That's the predicament faced by Charlie Davis, who hears voices wherever he goes. Charlie is the main character in Team Charlie, a new novel from author Mark Evan. In the book the death of Charlie's elderly caretaker father sets him on a journey to fend for himself. With joyous highs and crushing lows, the reader will be introduced to Charlie's many voices as he tries his best to survive in a demanding and confusing world. The story is as much an entertaining adventure as it is a thought provoking exploration of delusion.
Clarion Forward Reviews states that, "Readers will not be disappointed when they follow Charlie's journey in Mark Evan's evocative and memorable book." Kirkus Indie Reviews explains that, "It's hard to look away from the colorful characters running rampant in a lonely man's mind," and Blue Ink Reviews goes on to say that Team Charlie is a "Well-plotted novel where Evan finds tenderness, irony, and sly wit in Charlie's troubled journey."
In the story one of Charlie's voices tells him, "You're like a fly with its compound eye–you see the world from multiple different perspectives. Who else has such a broad spectrum of players, all with their eyes on the real world, all with their different emotions, with their different viewpoints, all working as one, as Charlie Davis. If anyone has an all encompassing eye on the real world, it is you, and make no mistake about it. You are a team, Charlie. You are Team Charlie." It is left to the reader to decide if this state of affairs is a curse or a blessing.
A Beautiful Mind, Silver Linings Playbook and other stories have piqued the modern reader's interest in mental health issues. Evan does not mimic these contributions. Told through many characters and voices, his story provides a fresh and multi-faceted perspective on the topic of delusion.
This book is available for purchase at Amazon, Barnes & Noble.com, or directly from the publisher, Authorhouse.
Team Charlie
By Mark Evan
ISBN: 978-1-4817-2292-6
299 pages
Softcover retail price: $19.95
E-book price: $3.99
About the author
Mark Evan is an award-winning author primarily known for his engaging short stories about modern life in Southern California. Team Charlie is Evan's first full-length novel. Evan lives in Orange County, California.