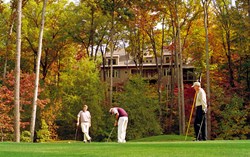 Gold Award - Best Amenity Package
Atlanta, Georgia (PRWEB) August 07, 2013
Living in an environment of extraordinary beauty is only the tip of the iceberg for the residents of Big Canoe set in the North Georgia mountains. This year, Big Canoe took home the Gold for Best Amenity Package by the Greater Atlanta Homebuilders Association. Award-winning amenities include top ranked Big Canoe golf, tennis, a state-of-the-art fitness center in addition to 22 miles of groomed hiking trails, three private fishing lakes, and fresh water streams. Folks searching for where to retire in Georgia, can find every opportunity to experience an active, engaging, healthy lifestyle without ever leaving Big Canoe's gated entrance.
A real asset to the amenities at Big Canoe is its impressive staffed 16,000-square-foot fitness center with tall windows exposing forest views. Top-of-the-line cardio machines with individual television monitors and Technogym strength training equipment are plentiful at the center. Classes of all types are available every day including Zumba, yoga, Pilates, water aerobics, personal training, and more. As if all of that wasn't enough, there is a five lane lap pool with saline water treatment which, among other benefits, makes it softer on the skin and less damaging to the hair. This does include the lakeside resort-style swimming pool and famous rock water slide.
For those who prefer the great outdoors to enrich their healthy lifestyles, Big Canoe offers a number of choices such as golf, hiking and boating. The three unique nine-hole golf courses are the Choctaw, the Cherokee, and the Creek. All three courses combine into one spectacular Mountain Course designed by Joe Lee. The championship course winds around peaceful lakes and dazzling streams, climbs up to cliffs with breathtaking mountain views, and weaves its way through scenic valleys. Year-round, Big Canoe golf offers a full range of clinics and schools for all skill levels so all residents are welcomed and encouraged to get out there and play the links. Take a peek at Big Canoe homes.
2,400 acres of preserved green space in the Big Canoe community contains some of the best North Georgia hiking trails. Here are more than 20 miles of hiking trails for a casual walking, power walking, running, or biking. Casual walkers hiking through the trails in the wildflower meadows will discover a plethora of indigenous animals and plants to enjoy and admire. Paved biking trails in the Wildcat neighborhood have 5%-10% inclines for a sturdy, more strenuous workout, and at Nature Valley at Big Canoe, resident hikers can access the Upper and Lower Waterfalls. It's easy to make a day of it in the clean, fresh mountain air with available picnic areas and benches for having a snack, resting, and delighting in all that nature has to offer in these North Georgia hiking trails.
Big Canoe has ten lighted tennis courts. Two indoor courts at the fitness center and 8 outdoor courts at The Village. Big Canoe has three private lakes: Lake Petit, Lake Sconti and Lake Dasharoon. Lake Petit is the largest of the three lakes stocked with Rainbow Trout and is where you can rent a kayak, canoe or fishing gear.
About Real Estate Scorecard
Real Estate Scorecard writes unbiased real estate reviews providing in-depth information about popular gated communities in Florida, Georgia, North Carolina, South Carolina and Tennessee, all in an effort to help people discover where to retire in the Southeast.
Website: http://realestatescorecard.com