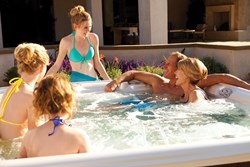 San Mateo, CA (PRWEB) August 08, 2013
Creative Energy is pleased to announce they will offer complimentary hot tub filters for life with the purchase of a Hot Spring Spa through August 31.
Hot Spring Spas are the best built, easiest to own, longest lasting hot tub manufacturer with an irrefutable reputation. Hot Springs Spas has revolutionized the way hot tub owners care for their water by offering the first and only integrated salt water sanitizing system using diamond technology. With the ACE salt water system, owners will experience softer, cleaner water that looks and feels great.
Hot Spring Spas are completely insulated with multiple layers of high density, polyurethane foam. They also feature no-fault heaters, and lead the industry in advanced heater technology. Each seat in a Hot Spring spa has been engineered to maximize comfort with the benefits of hydro massage. They design every jet so each has the power to provide an incredible massage. Jets are completely adjustable to create just the right sensation.
Creative Energy features both the Highlife and Limelight series of Hot Spring Spas. All Hot Spring spas are eligible for the complimentary filters; plus Creative Energy will also pay the entire sales tax.
For more information, visit their website at http://www.creativeenergy.com. Creative Energy is located at 3419 Regatta Boulevard in Richmond. Call today at 510-237-2300 to schedule an appointment.
About the company:
Creative Energy Corporation, founded in 1975 by Rolf Engelhard and Denis Kasten, is the Bay Area's exclusive Hot Spring® Portable Spa dealer. A family-owned and operated business, Creative Energy provides award-winning hot tub, spa tubs, wood burning stoves and gas fireplace service to thousands of satisfied customers at their Bay Area locations in San Rafael, San Mateo, and Pleasanton.
Creative Energy's mission is to be the top spa dealer and service provider in the world. They will accomplish this by retailing the highest quality spa in the industry while maintaining the most knowledgeable, dedicated staff. For more information visit their website.