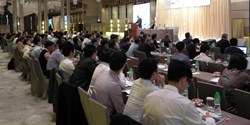 The Asian SBC meeting covers a wide range of topics pertinent to burning sub-bituminous coals.
George Town, Malaysia (PRWEB) August 08, 2013
The third Annual Asian Sub-Bituminous Coal Users' Group (ASBCUG) conference convenes Sept. 30-Oct. 3 at the Eastern & Oriental Hotel, located in the UNESCO World Heritage Site of George Town, Malaysia.
Conference sessions will include discussions involving generation technology selection, environmental and emission controls, fugitive dust control, combustion system optimization, and effective strategies for converting from hard to low-rank coals. Attendees will be able to choose from a total of 20 conference sessions across two tracks that focus on coal handling and boilers.
The ASBCUG was founded by CLP Power Hong Kong in conjunction with the PRB Coal Users' Group, and is managed by TradeFair Group, a unit of Access Intelligence. Other founding members include EGCO, HongKong Electric, Taiwan Power, KOSEP, and TNB, this year's host utility.
Delegates to the 2013 event will also be able to tour TNB Janamanjung's Stesen Janakuasa Sultan Azlan Shah Power Plant, a 2,100-MW coal-fired power plant that entered service in 2003 and uses three 700-MW Alstom turbines.
Complete conference details, including registration and hotel details plus sponsorship opportunities, are available at http://www.asiansbcusers.com/.