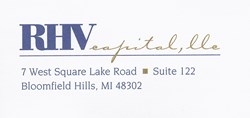 RHV is an outstanding financing source for entrepreneurs and managers."
Bloomfield Hills, MI (PRWEB) August 08, 2013
RHV Capital has increased its equity investment in Onesource Water in conjunction with providing a subordinated debt facility. The debt investment is part of an overall $31 million debt facility managed by HV Capital Investors, an affiliate of RHV Capital.
Onesource Water is the third largest distributor of point-of-use water purification systems in the U.S., and it operates in 15 geographic markets in 13 states. The company is growing through both acquisitions and new sales in existing markets.
RHV provided equity capital in conjunction with the company's initial acquisition in 2010 and has invested new capital to support additional investments over the last three years.
A.J.Wasserstein, Onesource Executive Chairman, said, "RHV is a true partner in the growth and development of the business. They are an effective sounding board for our team to build the business and create value for all of our constituents. I would strongly recommend RHV as a financing source for entrepreneurs and managers."
Glenn Healey, Managing Director of RHV Capital, commented, "Onesource Water has a good competitive position and a proven management team. We think of this as one of our core investments and we look forward to working with the company over the next several years."
About RHV Capital (RHV), (http://www.rhvcapital.com) RHV Capital was formed in 2008 and is headquartered in Bloomfield Hills, Michigan. RHV is a private investment partnership that makes direct investments in operating companies and has a strong history of search fund investing. RHV provides business value to operating companies acquired through their strategic investment approach. RHV principals have a wide variety of business experience, which includes owner-manager, Board of Directors (public and private), operations, finance, information technology, banking, and investment banking.