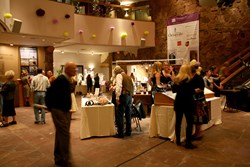 The month-long art celebration combines lectures, workshops and fabulous artsy parties with the chance to see and purchase the best of Western contemporary art.
Jackson Hole, Wyoming (PRWEB) August 09, 2013
Art and nature join forces for a stunning display in Jackson Hole each September as leaves take on fall colors and the National Museum of Wildlife Art presents its 26th annual Western Visions®, August 17 – September 22, 2013. The month-long Jackson, Wyo., art celebration combines lectures, art workshops and fabulous artsy parties with the chance to view and purchase fine Western contemporary art. For an advance look at some of the artworks available for bidding, a digital "sneak peek" brochure can be accessed online.
This year's Western Visions includes opportunities to meet featured artists Mark Eberhard and Veryl Goodnight, as well as free events like Palates and Palettes on September 6, a refreshment-laden tour of the museum and Jackson galleries, as well as two artist-led tours of the Western Visions artworks on August 16 and 30.
On Thursday, September 12, the 2013 featured artists will give special "Going Wild" presentations featuring appearances by real wildlife. Colorado sculptor and painter Veryl Goodnight will give a lecture and sketch workshop exploring the evolution of wolves to domestic dogs. "Animals are my greatest source of joy and inspiration," says Goodnight, who works from live animal models, which she says provide information "that a thousand photos couldn't convey."
Also on September 12, Ohio painter Mark Eberhard will lead a process and sketch workshop demonstrating the development from "wild guest" to finished piece of art. "I want [people] to see the beauty and humanity in nature that I see," says the artist, whose distinctive paintings of birds have earned him numerous national awards. Tickets are $75 for one workshop or $100 for a combo ticket. Registration is required by September 4 to participate in the workshops. Call the museum at 307-732-5411 or visit Western Visions online to register.
Scheduled events for 2013 Western Visions include the Sketch Show & Sale and Original Prints Show & Sale, August 17 – September 22. Opening August 31, and also running through September 22, the 26th annual Paintings and Sculpture Show & Sale will present more than 200 works of art by more than 150 artists available for purchase. The Jewelry and Artisan Luncheon, a popular event that typically sells out in advance, will be held on September 11. Contact the museum for details.
On September 12 the museum will host its 26th annual Wild West Artist Party, giving members of the public the chance to participate in this year's Western Visions festivities and meet and mingle with participating artists. Tickets for the party are $150 per person. Western Visions' biggest event, the 26th Annual Miniatures and More Show & Sale, takes place on September 13, offering art collectors their final opportunity to place bids on works they'd like to take home. Winning bids will be drawn and announced as well as winners of the annual Artists' Choice award and more. Tickets are $100, or a combo ticket for the Wild West Artist Party and Miniatures and More event can be purchased for $200 per person. Registration for both events is required by September 4.
A post-Western Visions coffee-in-the-gallery Art a' Brewin' event on September 25 will allow a final in-person chance to browse any works still available for sale.
Since its inception Western Visions has been a signature event of the Jackson Hole Fall Arts Festival, now in its 29th year and taking place September 5 – 15, 2013. Funds raised by the annual Western Visions support educational programming at the National Museum of Wildlife Art year-round. For a complete calendar of events for the month-long fundraiser, visit http://www.westernvisions.org or contact Jennifer Lee at 307.732.5412.
Company Information: A member of the Association of Art Museum Directors and the Museums West consortium and accredited by the American Association of Museums, the museum, officially designated the National Museum of Wildlife Art of the United States by an act of Congress in 2008, provides an exciting calendar of exhibitions from its permanent collection and changing exhibitions from around the globe. A complete schedule of exhibitions and events is available online at http://www.wildlifeart.org. The museum is also active on Facebook and on Twitter at @WildlifeArtJH..
Media Contacts: Darla Worden, WordenGroup Strategic Public Relations, 307.734.5335, darla(at)wordenpr(dot)com; Ponteir Sackrey, National Museum of Wildlife Art, 307.732.5444, psackrey(at)wildlifeart(dot)org