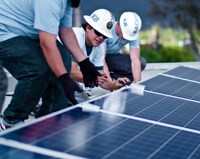 We are thrilled to have such a leader in the solar industry supporting our renewable energy programs. The KB Racking mounting systems are easy to train our students with and the hands-on experience makes a world of difference.
Toronto, Ontario (PRWEB) August 08, 2013
KB Racking has partnered with the College of Renewable Energy (CORE) in Ontario to provide solar mounting systems for its Solar Energy Technician Programs. KB Racking has donated two complete AeroRack and EkonoRack arrays capable of supporting 32 solar panels. The systems will be used for the hands-on training portion of the Solar Certification course designed to prepare solar installers, designers, consultants and inspectors for the solar industry.
"By donating our mounting systems to an educational program that supports green technology, KB Racking can hasten the development of solar energy in the industry while positively contributing to our local community," COO of KB Racking, Peter Aulich comments. KB Racking has performed an on-site installation demonstration for the students and professors of the College and plans to complete additional demonstrations for the upcoming graduating classes. The CORE's students will install and uninstall the mounting systems on the College's flat rooftop several times throughout the year.
ABOUT KB RACKING
KB RACKING specializes in the engineering and manufacturing of best-in-class mounting systems for solar installations. We offer flat roof, pitched roof and ground mount racking solutions, all designed for quick installation and lasting results.
ABOUT THE COLLEGE OF RENEWABLE ENERGY (CORE)
The CORE is the only full-time career college registered with the Ontario Ministry of Training, Colleges and Universities (MTCU) that teaches a hands-on Solar Energy technician program.