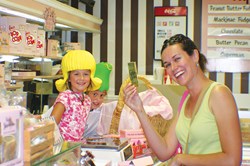 Mackinac Island, Michigan (PRWEB) August 09, 2013
For more than a century, Mackinac Island's fudge has been an institution that's become famous worldwide. Fudge devotees are known as "fudgies" – a term that is also synonymous with Northern Michigan tourists. Most people don't need an excuse to indulge in a piece or two of creamy, decadent fudge. But, for those who do, the 9th Annual Mackinac Island Fudge Festival, which runs August 23-24, 2013 offers Island dwellers and tourists a terrific reason to celebrate fudge -- made fresh each day at Mackinac's 17 fudge shops.
The festival features a number of fudge-related events activities including:

Miss Michigan Sugar Appearances
Daddy…I want the Golden Ticket Vacation Giveaway
Great Turtle Slow Ride Bike Race
Fudge Making Demonstrations & Tastings
Fudge on the Rocks
Fudge Spa Treatments
Fudge infused cocktails Island restaurants
Dining under the Influence of Fudge at Mary's Bistro and Cudahy Chophouse
An Evening with Audra Kubat at the Inn at Stonecliffe
Drive-in Movie feat. Charlie & the Chocolate Factory
Miss Michigan Sugar Appearances
Island fudge shops will host the "Daddy, I want the Golden Ticket & I want it Now!" vacation contest. Much like in the movie, six Golden Tickets will be placed in special packages of fudge and one will be drawn from the free entry forms at the Mackinac Island Tourism Bureau by Miss Michigan Sugar. Those who purchase the package with a Winning Golden Ticket inside will receive a two-night stay on the Island for four that includes ferry tickets, Mackinac Island Carriage Tour and Wings of Mackinac tickets.
An Evening with Audra Kubat at Mackinac Island's largest summer estate hotel, the Inn at Stonecliffe will feature the Detroit Music Award Winner for Best Folk Artist. Nationally acclaimed poet and singer-songwriter David Blair wrote, "Audra Kubat is a force of nature; a strong wind that blows past and transcends fads; a flower that's blossomed from coffeehouse gigs into larger theater and festival performances. Audra wears her influences—Joni, Miles, Billie, and Nick Drake like a coat of many colors rewoven into a 'ruggedly pretty' and haunting style all her own. It's a talent that's earned her a loyal following, airtime; stellar reviews in local and national press and 10 Detroit Music Awards nominations including a win for Outstanding Folk Artist several times over. Audra's force is centrifugal, spinning out from its singer/songwriter center into a myriad of other talents."
Like lilacs, horses and bicycles, fudge making is an Island hallmark and longtime tradition. In the nineteenth century, maple sugar sweets were manufactured by the local Odawa in nearby L'Arbor Croche, packaged in birchbark containers called "mokuks" and shipped from Mackinac Island in steamships touring the Great Lakes to confectioners throughout the country.
After the Civil War, Island shopkeepers continued to stock the "mokuks" along with Whitman's and Stuart's candies and chocolates. Tourists visiting the Island began requesting regional, Mackinac-made goods and in the late 1880s Harry Murdick opened "Murdick's Candy Kitchen." He and sons Rome and Gould made the fudge on marble slabs positioning the kitchen cooling fans to blow the smell of cooking candy onto the streets.
By the 1930s, Murdick's Fudge had grown to several locations and added Harold May, a prominent candy chef from Kansas to the staff. In the 1940s, Gould Murdick retired and sold his business to May. After World War II, May's Fudge began supplying postwar tourists with fudge, quality chocolates and candies and began the tradition of fudge making as a spectator activity.
Looking to grab a piece of the action, Harry Ryba, a Detroiter who made and sold fudge at State Fairs, bought a shop with his son-in-law Victor Callewaert on Main Street. He believed in May's philosophy of fudge making as a spectator sport and strategically located his marble slabs in his storefront windows while using Murdick's ploy of blowing the smell of fudge making onto the Island's streets and began to attract crowds to his store.
The fudge business boomed and the Murray Hotel began selling fudge from their porch, Frank Nephew opened Joanne's Fudge to honor the tradition and Bob Benser purchased Murdick's Fudge from the soon-to-be-retired Jerome Murdick to preserve Mackinac Island's first fudge making business. Most recently, Detroit's legendary Sander's Candy has come to Mackinac Island with their recipes dating back to 1875.
Mackinac Island's fudge is an Island institution that is now known worldwide. Today, the scent of fudge continues to waft through the streets of Mackinac.