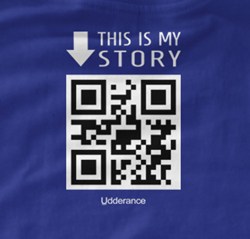 We all wear clothes. Why not use them to open up conversations?
(PRWEB) August 14, 2013
The church is in a state of transformation. Churches are increasingly embracing the "missional" movement, which is the idea to stop telling people about Christ and start showing Christ to people through our lives and actions. People care far less about what is said and far more about what is done.
Unfortunately, Christian T-shirts haven't caught on to the change. . .until now.
What the missional movement is doing for the church, Udderance is doing for the Christian T-shirt. Classic Christian T-shirts indiscriminately scream to anyone within eyeshot, "I'm a Christian wearing a Christian T-shirt!" Udderance T-shirts strip out all the cheeky Christian lingo and replace it with a very simple, very powerful message designed to make people ask, "What does your T-shirt mean?" The answer easily leads into conversations about God.
Each T-shirt is printed with a QR code which is unique to Udderance Christian T-shirts. Using an online management tool, users can control where people will be directed when they scan the code with a smartphone. The curious onlookers can go to the user's profile page, a custom message, or a third-party website like a blog. It gives users a great way to share their testimonies.
Udderance Christian T-shirts launched with the following four original designs: 'Children of Light,' 'Adventurize,' 'Reexist,' and 'In.' Each T-shirt is designed around a central theme and includes training on how to talk to people about them. Rather than focusing on creating a large catalog of T-shirts, Udderance plans to release one new T-shirt design per month and retire old shirts.
Udderance is also unique in the Christian T-shirt industry in that they use high-quality, non-sweatshop created garments. The vast majority of T-shirts are made overseas where women and children work long hours in poor conditions to earn poverty level salaries. This is just one more way Udderance is trying to make the world a better place.
Tim Ivey, the founder of Udderance, created a short video that can be viewed at the following link: http://youtu.be/ej-HqwA3UWk. In it he asks, "We all wear clothes. Why not use them to open up conversations?" Why not? Learn more at http://udderance.com.