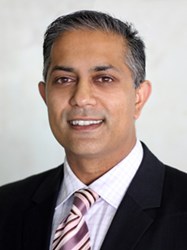 Patients who undergo minimally invasive hip surgery spend less time in the hospital and get back on their feet faster.
Beverly Hills, CA (PRWEB) August 09, 2013
Athletic activity, medical conditions and the wear-and-tear accompanying the aging process can all result in hip pain and immobility. In the past, many patients with hip conditions and injuries had to choose between living with discomfort and undergoing invasive surgical procedures like hip replacement. Fortunately, the expert orthopedic surgeons at La Peer Health Systems now offer new, minimally invasive hip replacement procedures at their new, state-of-the-art Hip Surgery Center of Excellence in Beverly Hills.
"As we age, a number of us experience hip pain and immobility due to arthritis or injury," said Dr. Jason Snibbe, a board-certified orthopedic surgeon and one of the medical directors of the Hip Surgery Center. "Our new minimally invasive hip replacement offers a number of advantages over more traditional procedures including less pain and muscle damage, smaller scars and quicker recovery."
Whereas traditional hip replacement necessitates a ten to twelve inch incision, the doctors at La Peer's Hip Surgery Center utilize a small surgical cut of just three to six inches for minimally invasive hip surgery. Not only does minimally invasive hip surgery allow for less pain and scarring, but it also helps patients resume everyday activities faster, as fewer muscles are being cut or detached during the procedure.
"Patients who undergo the newer, minimally invasive hip surgery spend less time in the hospital and get back on their feet faster," said Dr. Rajan Patel, an expert in complex adult reconstruction of the hip and the other medical director at the Hip Surgery Center. "Typically our patients can go home the same day they have surgery and drive a car within just two weeks."
Not everyone is a candidate for minimally invasive hip replacement. Those patients considering hip replacement surgery in Los Angeles should feel free to contact the Hip Surgery Center of Excellence for a consultation. After evaluating a patient's symptoms, performing a physical exam and reviewing X-rays, the board-certified surgeons at La Peer can better determine the cause of hip pain and discomfort and suggest an effective method of treatment.
La Peer Health Systems is an outpatient surgery center in Beverly Hills, founded by doctors and focused on providing excellent patient care alongside the most cutting-edge medical treatments available. With 40 world-renowned physicians in 13 specialties, we offer comprehensive medical treatment that takes patients from consultation to diagnosis, treatment, surgery, and ultimately aftercare. Our 13 medical departments include orthopedics & sports medicine, gastroenterology, head & neck surgery, colorectal & general surgery, podiatry, ophthalmology, pain management, plastics & reconstructive surgery, gynecology, spine surgery, interventional cardiology, bariatric surgery, and anesthesiology. Unlike large hospitals, La Peer's unique structure offers extremely personal care in a safe and controlled environment. More information about La Peer Health Systems can be found at http://www.LaPeerHealth.com.