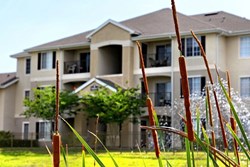 Orlando, FL (PRWEB) August 08, 2013
Leading real estate group specializing in representation of out-of-state and foreign national citizens, My Florida Property Store (MFPS), is offering a two-year rental guarantee on two and three bedroom Lakefront condominiums in Melbourne, Florida. The condos are located in the University Village community and are available immediately with pricing starting at $126,500.
Through My Florida Property Store, buyers will receive these exclusives:

24 Month Guaranteed Leaseback
Net Yield Being Achieved Up to 6.30%
Annual Cash-Flow Up to $8,529.84
No Management Fees During Leaseback Period
NO CLOSING COSTS with Any Reservation Made by August 16th, 2013
Hazard & Liability Insurance INCLUDED for First 12 Months
Approximate Value of Savings Up to $4,800.00
Not only is MFPS able to provide all of the above but also a project with immediate cash-flow and a program with a "2 Year Rental Guarantee," so the investor/owner gets paid if a tenant is in place, or the unit is empty.
The University Village community is conveniently located just four miles from the Melbourne International Airport and four minutes from the Florida Institute of Technology. The resort is a gated community with controlled access for all tenants and guests. Amenities include a large, spacious clubhouse with meeting area, professional fitness center and kitchen (available for private parties or functions). University Village features a serene landscaped setting with pool area and lighted tennis courts, surround by lakes and cascading fountains.
Click here to learn more about the University Village properties.
About My Florida Property Store:
My Florida Property Store (MFPS) specializes in the representation of foreign national and out-of-state clients in the buying and selling of investment properties, for short-term or long-term rental. MFPS boasts an extensive database of Villa Style Homes, Condos and Town Homes in Central Florida with a focus in Celebration, Davenport, Dr. Phillips, Kissimmee, Reunion, Windermere, the Metro Disney area and Lake Nona – "Medical City" corridor. The MFPS team is fully familiar with local customs in multiple countries around the world which is essential in order to communicate detailed local purchase information in an easily understood, simplified and explainable fashion. My Florida Property Store is a member of the Osceola County Association of REALTORS® and the National Association of REALTORS®.