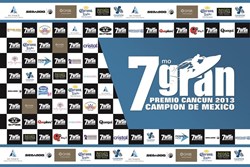 "Quintana Roo state has one of the highest wave runner sales figures in Mexico, therefore we are seeking to develop sporting events," Oscar Baig said.
Cancun, Quintana Roo (PRWEB) August 13, 2013
The beaches of the Mexican Caribbean provided the backdrop for the 7th Campion Mexican Grand Prix, Cancun 2013, which brought together the specialty's best pilots at the Sunset Marina Resort & Yacht Club on August 10th.
Campion de México and Sunset Admiral Yacht Club & Marina announced in a press conference that this is a 100% amateur sporting event and it's open to anyone who has a wave runner in any of the four following categories: Challenger (Engines up to 125 HP and/or up to 1000c.c.); PRO (Engines from 126 HP to 185 HP and/or from 1000 c.c. to 1500 c.c.); MAX (Engines from 186 HP to 260 HP and/or from 1500 c.c. to 1800 c.c.) and F1 (Modified).
The competition used oval and circuit formats and both were marked by buoys which must be passed on the left hand side if they are red and on the right hand side if they are yellow or double.
On Saturday, August 10th, eight races were held, two per category, in which the pilots will score points according to their position and time; 50 points for first place, 40 points for second, 30 points for third, 20 points for fourth and 10 points for fifth. This amateur event promotes pilots' skills while encouraging fair play, competitors participated in each of the different categories, most of whom were from the states of Tabasco, Campeche, Yucatán and Quintana Roo.
Prizes were awarded to the first three places in each category, along with a trophy. The prize amount was determined when registration was closed, and also depends on the number of participating pilots. Since this is a nonprofit event, all monies will be used for the event's organization.