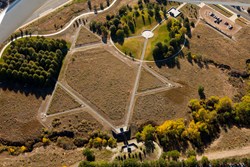 Denver, CO (PRWEB) August 08, 2013
Mizel Museum and Jewish Family Service present the Babi Yar Memorial on Sunday, September 29, 2013, 11:00 am to 12:00 pm at Babi Yar Park in Denver. The annual program honors the memories of those massacred at Babi Yar, on the outskirsts of Kiev, Ukraine, and other victims of the Holocaust. Babi Yar Park is located on the corner of E. Yale Ave. and Havana St. in southeast Denver.
This year marks the 72nd anniversary of the Nazi army entering the Former Soviet Union and perpetrating the "Holocaust by Bullets," where millions of Jews, Romas and others were murdered.
Jessica Milstein will host the one-hour program. Milstein is the Colorado Leadership Management Director of AIPAC and a grandchild of Holocaust survivors whose family was killed in the massacre at Babi Yar. Stories of two Denver area residents who survived the yar massacres will be featured in English and Russian. Violin teacher, performer, and recording artist Sandra Wong will give a short concert.
The Babi Yar Memorial is presented annually on the Sunday closest to the anniversary of the massacre. Seating is limited and attendees can bring blankets and chairs and enjoy the program from the park lawns.
Babi Yar Park is a project of the Mizel Museum and Denver Parks & Recreation. The park is a 27-acre memorial landscape where survivors of crimes against humanity and genocide can reflect. Native vegetation and trees encourage solace; a small grassy amphitheater is available for gatherings and dialogue.
About the Mizel Museum
Rooted in Jewish values that have universal relevance, Mizel Museum utilizes artistic expression and education to produce experiences that honor that past, engage the present and inspire expanded perspectives. The Museum is located at 400 S. Kearney Street, Denver, where visitors can tour the permanent exhibit, 4,000 Year Road Trip: Gathering Sparks. For more information about the Mizel Museum and Babi Yar Park visit http://www.mizelmuseum.org or call 303-394-9993.