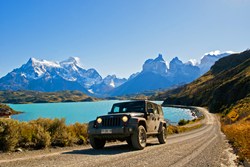 Patagonia is increasingly popping up on adventure travelers' radar.
Vashon, WA (PRWEB) August 09, 2013
International Wildlife Adventures (IWA), a worldwide leader in nature travel since 1994, launched new private-guided South America tours to the wild, remote southern region of Patagonia with its Patagonia by Jeep® tours, October through March. Each evening, participants stay in luxurious lodging and dine on gourmet cuisine.
Trips run Saturday to Saturday during the southern summer season (winter in the northern hemisphere). At the end of the week, visitors return to Puerto Natales for connections home.
Patagonia is the vast, far-flung region at the extreme southern end of South America, and comprises high, wind-swept plateaus and rugged, snow-capped Andes mountains. The vast region lies across the two countries of Chile and Argentina, and IWA's itinerary encompasses destinations in both countries.
The most famous park in the region is Torres del Paine National Park, which straddles the Chile-Argentina border. Striking jagged pinnacles tower over blue glacial-melt lakes, and massive glaciers wind their way to the Pacific Ocean.
"Patagonia is increasingly popping up on adventure travelers' radar, and we wanted to provide high-quality, private-guided trips for couples and small groups so they can explore this region in depth and in comfort," said IWA president and founder Randy Green. "This program allows travelers to take their time to hike, bird-watch, spot wildlife and photograph to their hearts' content. Also, a self-guided option is available, and we provide a GPS Ranger®, a patented multimedia tour guide system with the routing pre-programmed in."
Visitors meet their guides and pick up their 4-wheel-drive, 4-door Safari or Rubicon models at Puerto Natales and spend the next seven days exploring, hiking and photographing. Active options include donning crampons for a walk on a glacier, horseback riding and hiking to the base of the Towers. The Towers are three granite pinnacles that stand 1,000m tall, overlooking a deep valley and are all that remain of a once great cirque, having been slowly eroded over time by the sheer force of wind and glacial ice.
Wildlife is abundant and includes flamingoes, endangered huemul deer, guanaco, ibis, buzzard eagle, condor and the elusive puma.
Accommodations are almost as much of an attraction as the wildlife and scenery. Visitors will stay at luxurious estancias, or ranches, and deluxe tented camps reminiscent of the best of Africa. Each has its own signature cuisine rivaling the great hotels of Europe.
Through collaboration with The Carbonfund.org foundation, these adventures in Patagonia are 100% carbon neutral.
For more information on this trip, additional South America tours or other worldwide adventures, visit http://www.wildlifeadventures.com or call 800-808-4492 (US & Canada) or 206-463-1943 (Worldwide).
About International Wildlife Adventures (IWA):
Since 1994, International Wildlife Adventures has been providing top-quality nature tours, adventure cruises and photo safaris to thousands of enthusiastic travelers from around the world. With decades of combined experience, the travel professionals at IWA are experts at creating remarkable tour packages for those interested in adventure, nature and wildlife. The staff of IWA pioneered in offering trips to several top wildlife and adventure destinations, like the now-famous polar bear watching programs in Churchill on the shores of Hudson Bay.
We at IWA are in complete agreement on one thing: watching wild animals in their natural habitat is one of the most rewarding and breathtaking experiences of a lifetime."