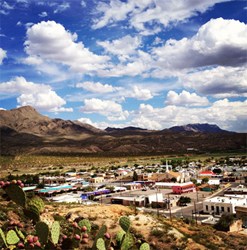 Truth or Consequences, New Mexico (PRWEB) August 08, 2013
TRUTH OR CONSEQUENCES, NM—The unofficial Hot Springs Capital of the Southwest – Truth or Consequences (T or C), NM – was mentioned in a recent New York Times (Aug. 6, 2013) interview with "Breaking Bad" creator Vince Gilligan, who indicated that T or C was one of his favorite places to visit while in New Mexico.
New York Times writer Emily Brennan asked Gilligan if he had a chance to explore New Mexico on his own during his interim in the Land of Enchantment. Gilligan revealed that he and his girlfriend took trips to several towns including Albuquerque, Taos, Santa Fe, and Madrid but that T or C was a "charming little town where you go to take in the waters."
Gilligan spent a weekend at the Sierra Grande Lodge and Spa in T or C, which was purchased by media mogul Ted Turner in April 2013. The Sierra Grande is well known for its unparalleled combination of luxurious accommodations, rustic charm and relaxing spa and healing mineral baths. 
"You have these individual open-air tubs where you turn on the spigot, and the natural hot springs come bubbling up," said Gilligan of his stay at Sierra Grande Lodge and Spa. "I had a cigar and drank a little bourbon while I was in it, which is probably a bad idea all around when you're in 115-degree water. But outdoors, under the stars, it's very nice."
Gilligan also went on to mention T or C's historic name change from Hot Springs, NM to its current name in response to a game show contest.
T or C now offers a pick up and drop off location for the popular Follow the Sun (FTS) Spaceport America Tours.
The AMC Emmy Award winning series, "Breaking Bad," has been filmed in New Mexico since it first began in 2008, and is now embarking upon its eighth and final season.
The New York Times article titled, "Albuquerque's Role on 'Breaking Bad'" can be read in its entirety online in the New York Times' travel section at nytimes.com/pages/travel/index.html.
For general information about the city of T or C, NM or Sierra County visit sierracountynewmexico.info/truth-or-consequences/ or call the visitor center at 800-831-9487.
# # #