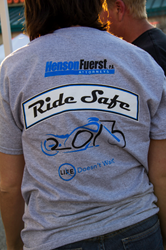 We have a great community of bikers in Rocky Mount. At HensonFuerst, we are proud to support that community and promote safety.
ROCKY MOUNT, N.C. (PRWEB) August 08, 2013
It's time for another Rocky Mount Bike Night! HensonFuerst Attorneys® will be the lead sponsor for Rocky Mount Harley-Davidson Bike Night this Friday, August 9, from 6:00 p.m. to 9:30 p.m. EDT.
The event will be held at Rocky Mount Harley-Davidson (928 North Winstead Ave., Rocky Mount, NC 27804) and features:

live music from BoneYard,
free food,
a burnout contest,
Hooters Girls,
Bud Girls,
doorprizes and giveaways, including some HensonFuerst swag
50/50,
Behind Barz magazine,
Performance Machine,
RC Components,
and much more!
This Friday's Bike Night is the second of three in the Bike Night series this year. The final event in the Bike Night series occurs on Friday, October 11.
Lawyers and Leather: A Common Goal of Safety
The motorcycle accident attorneys at HensonFuerst know that excellent weather conditions mean more bikers on and the road, leading to increased risks for motorcycle accidents. That's why HensonFuerst is making it a priority to promote safety and support the motorcycle community in Rocky Mount this summer and all through the year.
"Partnerships like this one are incredibly valuable. It provides a fun opportunity to educate riders and drivers about safety on the road," said David Henson of HensonFuerst.
About HensonFuerst
HensonFuerst Attorneys is a North Carolina-based law firm with offices in Raleigh, Rocky Mount, Creedmoor, and Boone, concentrating in traumatic brain injury, nursing home abuse, medical malpractice, and mass tort cases. For nearly 40 years, the attorneys at HensonFuerst have represented those injured by the negligence of others. With successful multimillion-dollar verdicts and settlements throughout the state of North Carolina, the team of 14 lawyers and 40 staff members at HensonFuerst offers considerable experience and resources for their clients. For more information, visit http://www.lawmed.com.