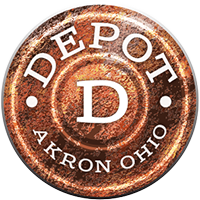 We are building The Depot based on exactly how University of Akron students envisioned their ideal apartment community.
AKRON, Ohio (PRWEB) August 08, 2013
The Depot, Akron's newest off-campus student housing community, has opened its leasing center at 446 East Exchange Street. The leasing center offers personal virtual tours of The Depot development, showcasing one-, two-, three- and four-bedroom floor plans from 592 to 1,386 square feet.
This 624-bed, four-story luxury student housing community will be located at 80 East Exchange Street, a few blocks from the leasing office and less than a quarter mile from the University of Akron campus. The Depot will open for students to move in August of 2014.
Since announcing the new community in May, The Depot has generated significant interest from potential residents.
"We have already been taking calls and responding to online inquiries about The Depot since construction started," said Joe Goodwin, senior vice president of marketing for Asset Campus Housing, the property management company for The Depot. "We are excited to welcome students to our new leasing center to see why The Depot will be the number one off-campus living destination for University of Akron students."
The developer of The Depot, Cleveland-based NRP Group, is investing more than $30 million in the project, transforming the site of the old Erie Railroad Station and Akron Beacon Journal newspaper sorting and storage facility. The community will feature a resort-style heated pool with an outdoor bar and kitchen, lounge areas, on-site concierge, modern clubroom, on-site mini market, indoor gas fireplace, game room with pool table, foosball, tabletop shuffleboard and arcade games, as well as a large group fitness classroom and state-of-the-art fitness facility.
Residents will also have access to a conference room with projection capability for group projects, group study areas with white boards, private study nooks, and a media lab featuring a mix of iMACs and PCs and a commercial-grade printer. Each apartment comes standard with granite countertops, in-unit washer and dryer, walk-in closets, contemporary furnishings and a 42' flat screen television.
"We are building The Depot based on exactly how University of Akron students envisioned their ideal apartment community," said Aaron Pechota, Vice President of Development at The NRP Group. "We conducted extensive focus group research with current students and listened to their specific needs and desires. Beyond current needs, we identified future trends and incorporated those ideas into the vision that has become The Depot. The result is a community thoughtfully designed for Akron students."
Pechota placed specific emphasis on sustainable practices such as repurposing parts of the original building to serve as reminders of the historic role of The Depot. Examples of the artifacts residents will encounter include exterior eaves from the former structures, along with the four monument "E"s signifying the Erie Railroad, all used as interior design elements in the courtyard, clubhouse and concierge areas.
NRP is the eighth largest multifamily developer in the nation and was awarded The National Association of Home Builders (NAHB) "Multifamily Development Firm of the Year" award in 2012.
For more information, please visit http://www.depotatakron.com or call (234) 738-0080.
The NRP Group LLC: Developer, Builder and Management Company
The NRP Group is a fully integrated, premier multifamily developer, general contractor and property management company dedicated to producing exceptional results for clients and investors.
Founded in 1995 by Alan F. Scott, T. Richard Bailey and J. David Heller, NRP has developed and constructed over 21,000 residential units in fourteen states over the past 18 years, with a strong presence in Texas, Florida, North Carolina, Ohio, Michigan, Virginia, Indiana, New Mexico, and Arizona. NRP Management is a full-service property manager with over 12,000 luxury, family and senior rental units encompassing nearly 100 properties managed in 11 states.
The NRP Group has 500 employees nationwide with offices in San Antonio, Houston, Orlando, Raleigh, Cleveland, Detroit, Phoenix, Buffalo and Tampa (opening December 2012). For more information, call (216) 475-8900 or visit http://www.nrpgroup.com/.
About Asset Campus Housing (ACH)
Headquartered in Houston, Texas, Asset Campus Housing, Inc. ("ACH") is an affiliate of Houston-based Asset Plus Companies, a third party property management firm specializing in real estate services for investors, developers, and owners. Asset Campus Housing manages a student housing portfolio of 100+ properties, exceeding 55,000 beds located throughout the United States.
###