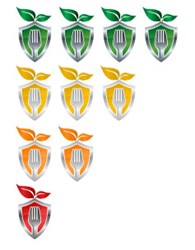 Albuquerque, NM (PRWEB) August 08, 2013
Food Sentry has deployed its Food Risk Rating System on its site at http://www.foodsentry.org. The Food Risk Rating System— designed to help consumers make informed choices about the foods they buy—features an algorithm that calculates the relative risk of a food product by examining more than a dozen individual characteristics directly affecting the safety of the product.
This is an important and timely consumer resource considering recent global food safety issues.
Further, in addition to the enormous amount of food produced in the U.S., a rapidly increasing amount of the food on our tables comes from foreign producers. In 2012, the U.S. imported more than 68 million tons of food worth more than $1.2 trillion.
Some of America's most popular foods are also increasingly foreign-sourced, with seafood and shellfish, fruits and vegetables topping the list. About 90 percent of our seafood and two-thirds of our fruits and vegetables come from outside the United States.
This is cause for great concern especially because some of our primary foreign sources for food – China, India, Thailand, Vietnam, Indonesia, Mexico – have ineffective and/or poorly enforced food safety regimes in place.
The path of any individual food may originate in any of more than 150 countries that supply food to the U.S., pass through any of 300,000 foreign food processing and preparation facilities, and enter the U.S. through any of 350 ports-of-entry. This year alone, more than 24 million shipments of food will enter the United States. That number increases by about 10 percent per year.
Add to this the fact that the FDA inspects less than only 2 percent of all of that food before allowing entry.
For a worried consumer there are few places to turn to find out about foreign-sources food products.
Food Sentry's answer to this threat is its Food Risk Rating System.
There are tens of thousands of food products available in a typical grocery store. The Food Risk Rating System concentrates on these eight categories of foods:
Meat, Seafood, Fruit, Vegetables, Herbs/Spices, Dairy, Nuts/Seeds and Grains.
They concentrate on these foods for three reasons:
1. They represent raw or minimally processed foods that have a naturally high inherent safety risk (seafood is especially dangerous, which is why it is currently the most highly regulated food in the world) and have a long history of risk in the marketplace;
2. They are foods that almost everyone buys on a routine basis;
3. The US imports very large quantities of each of these food categories from countries that have little or no effective food safety regulatory structure.
Food Sentry's analysts study and analyze a very wide variety of data to develop risk ratings for various foods. This information comes from numerous domestic data sources as well as global collection spanning more than 115 countries that import food to the United States.
Data sources include publicly available information such as:

Data collected by commercial enterprises
Governments
Non-governmental organizations (NGO)
Foreign-government reporting
Lab testing results conducted by regulators and consumer groups domestically and worldwide
Food Sentry's own extensive database of its ongoing research and analysis of reported risks to food
Typically, the only information routinely available to a consumer about foreign foods is the country of origin. Food Sentry therefore designed their rating system so that if the consumer knows the name of the product and the country of origin they can view a relative ranking of all countries providing that food to U.S. consumers (rankings are not based solely on country of origin, it is simply a common element that every consumer can easily link to a product).
Ratings are provided by a simple four-level graphic, with four shields indicating a preferred product and three or less Food Sentry shields indicating a product for which there may be better choices.
Many elements go into Food Sentry's scoring algorithm. Analysts have exhaustively researched information on the frequency of problems with a given food from various countries, evaluated the kinds of problems they see with the foods (microbiological, pesticides, contaminants, etc.), studied the regulatory infrastructure, performance standards and enforcement efficacy of various countries, and much more. Ratings are updated as often as new information becomes available and are therefore dynamic, so they may change frequently.
For more information visit Food Sentry's website.