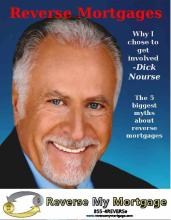 The reverse mortgage calculator is very easy to use and provide very help and accurate results.
Salt Lake City, Utah (PRWEB) August 07, 2013
How can the Utah reverse mortgage lenders of RMM help people with their financial situation?
Consulting with these financial experts is a wise decision for someone preparing for retirement or looking to receive a reverse mortgage, these experts experienced and have the right knowledge in order to help their customers prepare for their Utah reverse mortgage loan. It is very important that before getting into these loans, to fully understand and get educated on the pros and cons that come with. Along with providing high knowledgeable employees, RMM also has designed their very own easy to use online reverse mortgage calculator tool.
How is the online tool that RMM has on their website beneficial in planning for ones financial future?
With this online calculations tool, people can get fast and easy accurate estimates of what they could be receiving from their Utah reverse mortgage lenders. With this helpful tool available and it's easy to use format, people have been able to better plan for their financial future in a short time. The use of this tool will also help when consulting with a financial expert about receiving a Utah reverse mortgage loan, by showing them the estimated numbers, they will get a better idea of what to help their customer plan for. This reverse mortgage calculator has been proven to be very helpful in helping people plan for their financial future.
Can RMM help plan for retirement?
The service that people most seek out when going to RMM is help with the planning of their retirement, people want to reap full benefits of this much deserved vacation. These highly educated Utah reverse mortgage lenders want to offer their hand in helping better plan for it, so that it can be a much more peaceful and enjoyable time. The employees of RMM have much knowledge and experience helping people move their finances around to prepare them for retirement, and with the reverse mortgage calculator, it makes it much easier to determine how to manage the customers funds.
Why is it so important to meet with a financial expert before applying for a reverse mortgage?
While having a lot of upside in receiving a reverse mortgage, if the person's financial situation does not match up their can also be a lot of negative impact. That is why the financial pros at RMM have offered their knowledge for helping people prepare themselves to receive a Utah reverse mortgage loan. Let RMM help when trying to plan for retirement, or considering applying for a reverse mortage, or HECM loan.
For more information on RMM, please visit them at their website: http://www.mortgagereversecalculator.com.