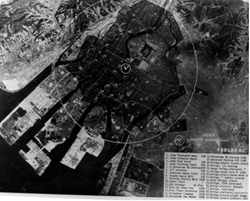 "Sixteen hours ago an American airplane dropped one bomb on Hiroshima...The force from which the sun draws its powers has been loosed against those who brought the war in the Far East." Harry S. Truman
(PRWEB) August 08, 2013
AncestorEbooks in remembering the Atomic Bomb grieves for all involved; for those who carried the weight of the decision to use an atomic bomb to their grave and those who were never able to give their loved ones proper grave. "The reasons and justifications for using such a terrible weapon continue to be studied," states Cristina Besendorfer, owner of AncestorEbooks.com. "Which ever side of the argument a person stands, these experiences need to be preserved and are the reason AncestorEbooks exists today. The historic facts presented here are just that, facts to remind the world of how devastating war is."
On 6 August 1945 the American B-29 Bomber, the Enola Gay, deployed the first ever atomic bomb on Hiroshima, Japan. The bomb exploded 2,000 feet above the city. The bomb, the equivalent to 12,000-15,000 tons of TNT, destroyed five square miles of Hiroshima and immediately killed 80,000 people.
There were 90,000 buildings in Hiroshima before the bomb was dropped, afterwards only 28,000 remained. Only 10% of the 200 doctors before the explosion were left alive or able to work, and only 150 out of 1,780 nurses remained to aid the injured and dying. [history.com/this-day-in-history]
When the immediate surrender for which the United States had been hoping did not come, President Harry S. Truman approved the deployment of a second atomic bomb to be deployed over Kokura. Due to a cloud cover over Kokura, Nagasaki became the secondary target.
This second bomb, more powerful than the first, destroyed 2.6 square miles of Nagasaki, mostly due to the city being inside a narrow valley between mountains. The topography of the city reduced the bomb's effects. [bit.ly/14wREFD]
One survivor described the damage to the people by saying, "The appearance of people was... well, they all had skin blackened by burns. . . . They had no hair because their hair was burned, and at a glance you couldn't tell whether you were looking at them from in front or in back. . . . They held their arms bent [forward] like this. . . and their skin - not only on their hands, but on their faces and bodies too - hung down. . . . If there had been only one or two such people. . . perhaps I would not have had such a strong impression. But wherever I walked I met these people. . . . Many of them died along the road - I can still picture them in my mind -- like walking ghosts."
The immediate effects of the bombings were devastating, however, the fall out years later would be overwhelming. The Atomic Bomb Casualty Commission, founded by the United States in Japan, have been studying the effects since 1950.
Radiation penetrates into the human body and injures cells, the results are cell death, reduced cell division, abnormalities in molecules and membranes. Leukemia is also a consequence of radiation sickness. By 1975, there were 1,838 cases of leukemia diagnosed in Hiroshima and Nagasaki. [atomicbombmuseum.org/3_health.shtml]
One such case was a young girl name Sadako Sasaki. She was two years old when the bomb fell on Hiroshima. Ten years later she was diagnosed with leukemia. [hibakushastories.org/paper/cranes.html] Sadako was determined to fold 1,000 paper cranes so that her wish would be granted.
Sadako died on October 25, 1955 as a result of the leukemia. Friends and classmates of Sadako's began a campaign to build a memorial to Sadako in Hiroshima Peace Memorial Park. To this day the Children's Peace statue stands beautifully decorated by paper cranes sent from around the world. [hibakushastories.org/paper_cranes.html]
"Tragedies are a part of who we are, who our ancestors were, and what shaped their lives," says Gayla Mendenhall of AncestorEbooks. "There are national disasters that are so profound we all remember exactly where we were and what we were doing when we heard the news."
Hiroshima along with 5,700 cities that comprise "Mayors for Peace" are committed to the abolishment of nuclear weapons by 2020. [bit.ly/12YZ0ka] The Hiroshima Peace Museum has a Peace Watch Tower. This tower's clock does not keep track of time. The first number on the clock represents the number of days since the atomic bomb was dropped on Hiroshima, the next panel indicates the number of days since the last nuclear test was conducted. [bit.ly/14xgoxx]  The last time clock was reset was to protest the underground nuclear test conducted by North Korea on February 12.
"Perhaps it is those who experience the worst tragedies will understand to what extent love and tolerance matters in life," continues Mrs. Mendenhall. "Those stories, whether they are of massive historical scale or a more personal tragedy need to be shared with future generations. Come to AncestorEbooks.com and tell the stories; let the next generations learn from the suffering and triumphs of their ancestors."