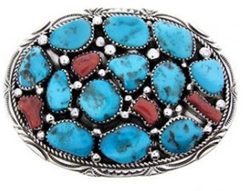 The one turquoise accessory which nobody can deny is rising to the highest prominence is the turquoise belt buckle.
(PRWEB) August 08, 2013
A recent look has been showing up in magazines and music videos which might surprise you. Turquoise belt buckles have grabbed the attention of everyone ranging from rock stars to CEOs. Now turquoise buckles are ready to hit the mainstream.
"They're calling it the year of turquoise," shares Jodi Fuller, a fashion insider who devotes her time to spreading awareness about Native American fashion on the website turquoisebuckle.com. "The one turquoise accessory which nobody can deny is rising to the highest prominence is the turquoise belt buckle."
"It started with celebrities and musicians and now it has worked its way down to mainstream fashion." Many influential players in the fashion world have already shown their support for the trend by being snapped on the red carpet or in magazines sporting a turquoise buckle.
Turquoise belt buckles are a unique thing because they represent a shared interest between Native American tribes and the new settlers. "Obviously the settlers were enamored with the beauty of the turquoise fashioned by the Native Americans, enough to make it a focal point of their fashions," said Fuller.
Fuller wants to encourage fashion lovers to embrace the turquoise belt buckle as a style that celebrates Native American culture and keeps it in the spotlight. "When wearing a turquoise buckle, everybody is going to want to pass out compliments. That opens up the channels of communication to share the history of Native American artisans and tell people how relevant their techniques are today."
Men and women alike favor finishing off their outfits with belt buckles because they provide a subtle accent which comes across as strong and warrior-like. For devotees of the belt buckle tradition, there are slight variations between belts originating in the Mexico regions compared to belts originating from the Southwest.
A turquoise buckle is also topping lists of many gift-giving guides. "It's the type of item which somebody might not think to buy for themselves, but when they get it as a gift, they really fall in love with it."
The idea behind turqoisebuckle.com is that you can never have enough knowledge about Native American turquoise under your belt. "This is a place to be educated, to engage in the collaboration of fashion and history," says Fuller. The website should definitely be bookmarked by anybody intrigued by Native American belt buckles or who plans to purchase one in the future.