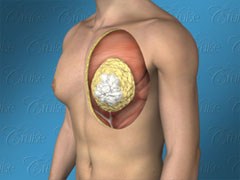 Patients dealing with gynecomastia have suffered a great emotional toll. Providing concise and accurate treatment the first time around, is imperative to their well-being.
Newport Beach, CA. (PRWEB) August 08, 2013
In order to better educate his Los Angeles gynecomastia patients, as well as effectively treat their symptoms, Dr. Cruise has developed a comprehensive classification system, which separates each type by the cause and severity. Once the type is determined, the appropriate treatment option can be recommended. The goal is to prevent the need for repeat gynecomastia surgery resulting from unsatisfactory results. Too often, surgeons address most types of gynecomastia with liposuction alone, which may leave behind some residual breast tissue that often has to be removed as a secondary procedure.
"Creating a more thorough system for classifying the various types of gynecomastia allows me to pinpoint the exact treatment necessary to provide my patients with optimal results," stated Dr. Cruise.
For more information, please visit:
http://lagynecomastia.org/gynecomastia-overview/
The classification system divides enlarged male breasts into four basic types; puffy nipple gynecomastia, classic gynecomastia, fatty gynecomastia and saggy gynecomastia. Each of these gynecomastias have a different cause and, thus, should be treated differently. Puffy nipple gynecomastia is composed almost exclusively of gland. Since liposuction is ineffective at removing gland, puffy nipple requires surgical excision.
Classic gynecomastia, which is the most common, consists of primarily excess gland but also has a fatty component. Liposuction alone is capable of removing this fatty component but the breast tissue gland is left behind. Most patients will not be satisfied with this result. For this reason, Dr. Cruise strongly recommends surgical excision for classic gynecomastia.
Fatty gynecomastia, as the name suggests, is composed primarily of fat and does respond well to liposuction alone. These patients tend to be between the ages of 30-45 and are above their ideal body weight.
The most complex type of gynecomastia is saggy gynecomastia. Proper treatment involves not only removing the volume (fatty or gland) but also requires removing skin. These patients are usually either older or have lost a considerable amount of weight resulting in a skin excess.
Proper treatment of gynecomastia requires first identifying exactly the underlying cause. Being able to classify each patient properly is essential to obtain optimal results and avoid the need for revision surgery.
About Cruise Plastic Surgery:
Cruise Plastic Surgery, with offices in Los Angeles and Newport Beach, California, is one of the top plastic surgery practices in the Southern California region. The director, Dr. Joseph T. Cruise, is a fully trained, board-certified plastic surgeon specializing in gynecomastia surgery. His dedication and focus is clearly evident in the comprehensive educationally based web site he manages and the concierge-like customer service his patients receive from the entire office. Experience and predictably good results have earned him the distinction of being one of the best gynecomastia surgeons in Los Angeles and Orange County.