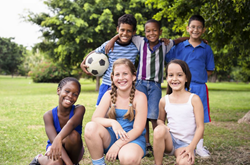 After sending my asthmatic son Jack back to school, I wanted to share tips and tricks to give other anxious moms some peace of mind.
Los Angeles, CA (PRWEB) August 07, 2013
It's that time of year again for fresh new haircuts, new outfits, packing new lunchboxes and backpacks, and sending the little ones back to school. Sending your child off for nine hours a day can seem like an overwhelming situation for parents of children with asthma, but with a little preparation, children can have a safe and healthy learning experience, says Carolyn Roberts, founder of LivingWithAsthma.net.
Carolyn, who co-founded LivingWithAsthma.net as an outlet to help other moms of asthmatic children after her experiences learning with her son Jack, chronicles her experiences as an "Asthma Mom" on the site's blog. She knows how stressful starting the school year can be and shared her personal worries with readers. "After sending my asthmatic son Jack back to school, I wanted to share tips and tricks to give other anxious moms some peace of mind," says Carolyn.
Through her experiences, Carolyn has come up with a "survival guide" for other mothers to follow to ensure that their children have a safe and healthy school year.
Tips for Back-to-School Preparedness:
1. Meet with your child's doctor to be sure they are up to date with all their current medications and to develop an Asthma Action Plan with your child.
2. Make sure a written Asthma Action Plan is available for teachers/nurses.
3. Speak with the school nurse and your child's teachers to make them aware of your Asthma Action Plan.
a. Make sure to visit their teachers, coaches, nurses, principals, lunch aides and bus drivers.
b. Make sure they know how to get your child's medicine, what their triggers are, and what they need to avoid.
4. Teach your child how to avoid getting sick - practicing good hygiene (washing hands, etc.), and consider getting a flu vaccination.
5. Teach your child to recognize their triggers and symptoms. Make sure they're honest with themselves and that they recognize that the symptoms won't go away.
6. Teach the child, teacher and nurse to use the inhaler correctly.
For three keys to managing gym class visit: http://www.livingwithasthma.net/asthma-gym-class-talking-child/
For seven great foods to pack in your Asthmatic child's lunch see: http://www.livingwithasthma.net/7-great-foods-pack-asthma-kids-lunch/
For more tips and support and more from "Asthma Mom", visit http://www.LivingWithAsthma.net.
About LivingWithAsthma.net:
LivingWithAsthma.net is a new online community seeking to empower families of children with asthma. It covers topics from one mother to another, including home remedies, practical lifestyle changes that can reduce triggers, medication reviews and more. LivingWithAsthma.net seeks to raise awareness for the disease and create a community forum for mothers to discuss their experiences and triumphs in living with an asthmatic child.
To speak with Carolyn Roberts, or for media information please contact:
Kelley Coughlan, Melrose PR, Kelley(at)melrosepr(dot)com, (310)260-7901, http://www.melrosepr.com .