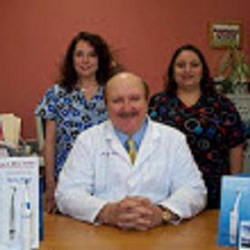 Invisalign treatment helps patients to improve their smile and their confidence even while their teeth are in the alignment process.
Bremerton, WA (PRWEB) August 08, 2013
Dr. John J. Bial, a Bremerton, WA general dentist, recently introduced Invisalign at his practice to provide patients with a convenient and comfortable alternative for a straight smile. Unlike bulky metal brackets and wires, Invisalign gradually aligns teeth using clear plastic aligners. The result is a beautiful smile achieved with less hassle and irritation for the patient.
With traditional braces, some foods can damage the brackets' bonds with the teeth. Metal braces can also be difficult to clean. An increase in decay often occurs during treatment time because using floss is time consuming and complicated. Invisalign allows patients to easily remove the aligners to make eating, brushing, and flossing more convenient.
"There are many patients who have uneven smiles and would like their teeth straightened but don't want to bother with the discomfort and inconvenience of traditional braces," said Dr. John Bial, Invisalign dentist in Bremerton, WA. "Invisalign treatment helps patients to improve their smile and their confidence even while their teeth are in the alignment process."
During Invisalign treatment, as teeth move and realign little by little, patients are given a new set of aligners every two weeks. An office visit, however, is only required every six weeks. Aligners should be worn approximately 20-22 hours per day but can be removed for eating and for special occasions. No specific foods are restricted with Invisalign as they often are with metal braces.
While Invisalign is an excellent alternative to traditional orthodontic treatment, it is mainly designed for use on patients whose alignment issues are mild to moderate. To find out if invisible braces are the right option for them, patients are encouraged to visit Dr. Bial's office to get a professional opinion.
Dr. John J. Bial graduated from the College of Dentistry at the University of Illinois. He then continued his education in dentistry and graduated from the Las Vegas Institute for Advanced Dental Studies. At the Naval Dental Center in Bethesda, MD, Dr. Bial served in the United States Navy for 24 years and completed a Postdoctoral Fellowship in Periodontics. During his time on active duty, he practiced general dentistry and periodontics as well as two years of orthodontics in Okinawa, Japan. Dr. Bial has practiced in Washington since retiring from the military. He is a member of professional dental organizations such as the American Dental Association, Kitsap Dental Society, and the American Academy of Periodontology.
In addition to Invisalign treatment, John J. Bial, D.D.S., P.S. offers a comprehensive range of dental services such as cleanings, X-rays, veneers, crowns, dentures, bridges, and periodontal treatment. He is a qualified dental implants dentist in Bremerton, WA and also provides laser dentistry as well as biomimetic dentistry.
For more information about Dr. Bial and the services offered at his practice, please visit http://www.DrBial.com and http://www.youtube.com/watch?v=pGqKjARewfU.