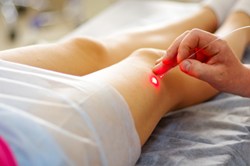 Venous insufficiency and blood clots can both lead to pain and swelling in the leg
Plainview, NY (PRWEB) August 09, 2013
Advanced Vein Care Solutions is launching a new public health campaign to promote treatments for leg pain. According to the Plainview, New York-based vein center, leg pain can be caused by a number of factors, including venous insufficiency, varicose veins, blood clots, and injuries. The center hopes to educate the public on treatments they can take advantage of to reduce pain and enjoy a more comfortable life.
Dr. Andrew Rochman, a leading vein doctor at Advanced Vein Care Solutions, recommends treating the underlying problem as a method for resolving leg pain. "Venous insufficiency and blood clots can both lead to pain and swelling in the leg," he explains. "Taking advantage of a minimally invasive treatment can address the problem and reduce or eliminate all associated symptoms, including pain."
The vein center encourages the public to learn more about what may be causing their leg pain and to employ simple home care strategies to help address discomfort. The center will be providing tips and ideas on how to treat leg pain throughout the month of September. Interested readers can visit the center's Facebook and Twitter pages to learn more.
For more information, visit: http://www.yourveinsolution.com/.
Varicose Vein Treatment Options
Varicose veins and spider veins are extremely common in men and women. While spider veins are very small, reddish veins on the surface of the skin, varicose veins are much larger, bulging, tangled veins that may appear bluish in color. Men and women suffer from varicose veins, although women are much more likely to have them.
Today, patients have access to a number of effective varicose vein treatment options. Advancements in technology and medicine have led to the development of effective, minimally invasive treatments that produce optimal results with few side-effects or downtime. These treatments include sclerotherapy, radio frequency ablation, phlebectomy, and endovenous laser ablation.
About Advanced Vein Care Solutions
Advanced Vein Care Solutions is the Plainview, New York region's foremost provider for vein care and vein disease. The vein treatment center is committed to providing patients with comprehensive, personalized health care for vein disease. Special areas of expertise include varicose veins, spider veins, and more complex circulatory conditions. The center's vein specialists are highly skilled and experienced in diagnosing and treating the full range of vein disorders. Doctors at Advanced Vein Care Solutions realize the importance of staying on the leading edge of new research, technology and procedures. Under the direction of Dr. Andrew Rochman, the center sets the standard for venous disease care in Plainview, NY.
Advanced Vein Care Solutions
http://www.yourveinsolution.com
Tel. 516-821-0242