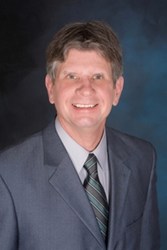 We want people to know that our laser technology can change how they feel about dental work by eliminating the pain normally associated with it.
Highlands Ranch, CO (PRWEB) August 09, 2013
Dr. Michael R. Varley of Highlands Ranch, CO recently introduced laser dentistry at his practice to help patients have a gentler, more comfortable experience during their visits. The use of this technology eliminates the need for noisy drills and painful shots by replacing them with a combination of water, air and laser energy.
When considering a trip to the dentist's office, many people experience anxiety and nervousness, mostly due to the pain and loud noises often associated with dental work. For this reason, they may unfortunately avoid getting the dental work that is vital to their overall health. Dr. Varley and his team at Highland Ranch Dentists are using laser dentistry to make dental treatments more comfortable and less stressful.
"We understand that there are many who do not visit the dentist because they are concerned about pain and discomfort," said Highlands Ranch laser dentist, Dr. Michael Varley. "We want people to know that our laser technology can change how they feel about dental work by eliminating the pain normally associated with it."
Traditionally, when a drill is used for filling cavities, there is friction against the teeth. This creates a great deal of heat, which causes pain in the mouth. To numb the area around the tooth, a local anesthesia is typically administered during treatment. While this does reduce pain, it does not wear off quickly and can be inconvenient for the patient for some time after the work is done.
Dr. Varley's technique cuts through the tooth using a powerful laser technology, all while water sprays continuously to hydrate the tooth and keep it cool. With the absence of heat, local anesthesia is not necessary. The dentist is also able to protect more of the healthy tooth because the laser allows for more precision incisions. Laser dentistry is safe and effective for patients of all ages.
Dr. Michael Varley and his staff are committed to their patients' comfort and satisfaction. In addition to the use of state-of-the-art laser dentistry, their office provides a comprehensive range of general and cosmetic dentistry such as extractions, whitening, and endodontic therapies. For patients who are interested in a more permanent, healthy smile, Dr. Varley also provides Restore implants in Highlands Ranch, CO along with dental implants.
Michael Varley, D.D.S. is a graduate of Eastern Michigan University with a Master of Science from Wayne State University. He also earned a Doctor of Dentistry degree from the University Of Detroit School Of Dentistry. He has advanced training in orthodontics as well as expertise in TMJ disorder treatment. He is the treasurer of the Colorado Dental Association and American Equilibration Society, past president of the Metropolitan Denver Dental Society, member of the American Dental Association, and consultant for the State Board of Dental Examiners.
For more information about Dr. Michael Varley and the services offered by his team at Highlands Ranch Dentists in Highlands Ranch, CO, please visit http://www.SmilesByVarley.com and http://www.youtube.com/watch?v=ecH_jJ61DRg.