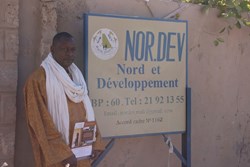 "Imagine a world that no matter where a child lives, the fundamental right of education is assured"
(PRWEB) August 09, 2013
Caravan to Class' Head of Operations in Mali, Mr. Hamadou, returned this week, with his family, to live in Timbuktu. He had been living in Bamako, directing Caravan to Class' activities from the capital of Mali, since the Ansar Dine takeover of Timbuktu in April 2012. His return is a sign that things are normalizing in Timbuktu after the French liberation in late January 2013.
Caravan to Class is a leading NGO is the Southern Sahara operating in the education sector. Their mission is to help bring literacy to villages around Timbuktu by building schools and educational infrastructure, paying teachers' salaries, proving basic nutrition, and procuring school supplies. Caravan to Class is responsible for supporting eight schools in villages near Timbuktu with over 1,000 children ages 6 – 12 years. Caravan to Class was able to reopen four schools after they had been closed by the militants of Ansar Dine for much of 2012. The other four schools will reopen in September after a significant return of refugees has taken place.
"Having Hamadou back in Timbuktu to work with Abdoulaye Toure, Head of Programming for Caravan to Class, gives us the ability to deepen our partnerships with both the UN World Food Program and the CAP (Timbuktu Ministry of Education) to ensure the success of the schools" says Barry Hoffner, Founder and Executive Director of San Francisco-based 501c3 charitable organization, Caravan to Class. He adds "Hamadou has helped guide Caravan to Class from our first school, through the challenging times of last year, when our schools were closed, to the reopening of our schools."
While there remain some challenges in Timbuktu, electricity and shops with goods in them, most residents are hopeful that after the recent elections, Timbuktu will be back on the road to recovery. Either way, Caravan to Class will continue supporting the children, in villages where they operate, in their quest for realizing the dream of literacy.