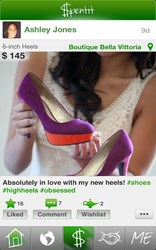 Spentit is the first social mobile app of its kind. It is simple to use, highly functional and informative, which really makes purchase sharing fun for all of our users. - Spentit co-founder Nino Natale
(PRWEB) August 20, 2013
R&N Technologies, LLC, announces the official launch of its revolutionary purchase sharing application, Spentit. Spentit allows users to instantly share purchases with friends, family and other users all over the world. The app is now available for download on the App Store at no charge.
Since its beta launch in November of 2012, founders Nino Natale, Andrew VanderLind and Ryan Napier have received an overwhelming amount of positive feedback about Spentit. Spentit user, @Bellas_Boutique on Twitter, expressed her gratitude for R&N Technologies' ingenious social medium: "We've found the hottest new app!! A must-have for making shopping even easier!!"
Spentit's uses range wide, from helping boutique owners sort and find ideal inventory, like the owners at Bella's Boutique, to sharing thrilling purchases with friends and family. The platform brings shoppers worldwide together to exchange deals and great finds with the touch of a button. Spentit allows for targeted searches across designated categories including: holidays, fitness, wedding, technology and more.
Spentit's features go far beyond its basic search and sharing features. Spentit also allows users to see what fellow shoppers are buying, where they bought it and how much they paid for it. There is also a popular category which enables users to browse thousands of the most popular purchases around the globe.
Furthermore, users can receive instant feedback on their most recent purchases. The Spentit's shop feature allows users to buy directly from the app with the click of a button. If a user sees a product they like and want to remember to buy it, they can simply click the Genie Bottle icon and it is stored to their wish list.
For all inquiries and more information on Spentit, please visit http://www.spentit.com or contact Support(at)Spentit(dot)com.
About Spentit:
Spentit Beta launched in November 2012 and officially launched in August 2013, Spentit is a unique purchase sharing social platform for use on mobile applications, created by R&N Technologies co-founders, Nino Natale, Andrew VanderLind and Ryan Napier. Spentit helps users connect based on common purchasing behavior and interests. Users can instantly share purchases with friends, family and other users that they follow or with those who follow them. Spentit is a fun and easy way to share interesting purchases and get ideas of new things to buy.