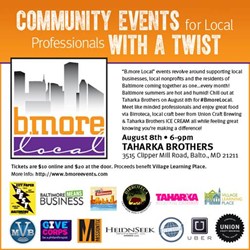 The #BmoreLocal events have been able to raise thousands for deserving local charities while bringing exposure to local businesses and memorable experiences to those in attendance.
All for $10!
Baltimore, MD (PRWEB) August 08, 2013
#BmoreLocal on August 8th at Taharka Brothers benefiting Village Learning Place.
Mark's son, Adam Van Bavel, 2012, 2011 & 2010 Baltimore City Paper Readers' Poll "Best Do-Gooder" has partnered with GiveCorps, Baltimore Means Business, Yelp Baltimore and other great local businesses to bring Baltimore a monthly event series like no other.
Meet like-minded professionals and enjoy great food via Birroteca & Donna's, local craft beer from Union Craft Brewing and Taharka Brothers ice cream. Enjoy "Oatmeal Stout" which utilizes Union Craft Brewing's Snow Pants...a never before tasted flavor from Taharka Brothers!
In its quest for a piece of the American Dream, Taharka Bros. serves up societal change one scoop of ice cream at a time. The socially conscious driven frozen treat maker offers opportunity to young men in Baltimore who might otherwise slip through the proverbial cracks. Using their factory as a training ground, the young men learn about entrepreneurship and business strategy as well as the benefits of education and hard work.
The Village Learning Place is an independent non-profit library that houses educational programs, enrichment opportunities, and informational resources for Charles Village and throughout Baltimore City. It is our belief that libraries are not only a repository for books, but also serve as community centers focused on the personal and professional growth of their patrons.
CHECK-IN TO WIN...
Check-in with, "I'm at #BmoreLocal" to Taharka Brothers via Yelp, Facebook, Foursquare, Twitter or any location based service when you arrive and let us know when you enter. You'll be entered for a chance to win gift certificates for showing up and letting people know about #BmoreLocal!
RIDE UBER...
Take your first Uber to Taharka Brothers and get $10 off your ride. Avoid parking and enjoy your drinks without worrying about how to get home!
Not only that, but Uber will make a matching donation of $10 to Village Learning Place for every person that rides!
Just sign up and apply promo code - (visit the Facebook event for details) - before you ride.
Code valid for new users only, through 2am Friday, August 9th.
Tickets are $10 online (until 12pm 08/08) and $20 at the door with proceeds benefiting Village Learning Place.
Events are hosted monthly at different locally owned businesses in and around Baltimore. Every event aims to show the unique diversity in businesses, causes and residents that makes Baltimore "The Greatest City in America".
More Info: bmoreevents.com