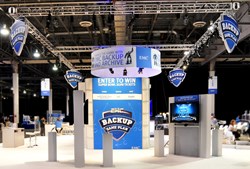 Trade Show Photography is a specialized field and not anyone can do this.
Orlando, FL (PRWEB) August 08, 2013
Trade Show Photography and Exhibitor Photography may sound similar but are quite different services. Professional Images Photography now offers more to than just taking a photo of booth. To start with Trade Show Photography is really a very specialized field and requires a strong background in architectural photography. During a recent pharmaceutical conference there was approximately 300 booths and close to 140 were at a minimum 40x50 with many actually larger in size to accommodate all the products, and employees of each company. Engineers and Architects work together to create booth that will attract attendees. Having a photo to capture more than just the overall booth is important to the builder and the company that had it built. Professional Images Photography now uses medium format digital cameras and a variety of lenses. The often quoted saying, "A picture is worth a thousand words" is what Professional Images Photography does each and every time. Each image is carefully captured per customer's specifications to fit the client's needs. Another service is archival cloud base storage on dedicated IP servers that are not shared but are encrypted.
Exhibitor Photography services also has been improved to offer complete coverage of the Trade Show Experience. What this means is that the photographers of Professional Images Photography captures the engagement of the attendees and exhibitor creating marketing collateral for the show's production company. In addition, Professional Images Photography now offers Event Photo Marketing. Building Brands while giving the attendee an experience creates lasting impressions and more visits to Social Media sites and websites. The ability to offer Green Screen Photography or Onsite Printing Photography using the client's background or a background created by Professional Images Photography is simple. Onsite 4x6, 5x7 or 8x10 take away prints is now offered using the latest in digital dye sub printers.
Go to http://www.proimagesphoto.com to learn more about Professional Images Photography services.
About Professional Images Photography
Since 1987 Professional Images Photography has been providing Convention Photography, Green Screen Photography, Onsite Printing Photography and Event Photo Marketing services Nationwide. Based in San Antonio, TX with offices in Houston, Orlando, Washington D.C., New York and coming soon to Las Vegas, NV. 1.888.486.3241