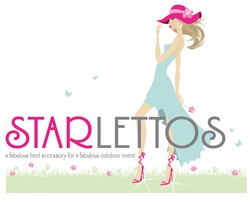 Starlettos are fun as well as functional, so we could think of no better way to promote them at this important time of the year
Sydney, Australia (PRWEB) August 08, 2013
Starlettos, makers of high heel protectors of the same name, has just announced the introduction of a new app to its Facebook page. The app introduces a fun element into the payment process by offering a 1 in 4 chance to receive the product as a complimentary gift.
Buyers are kept in suspense until they complete the purchase as normal and then, a fun visual reveals whether or not they have been charged for their item. The app both incentivizes purchases and drives customer engagement. The launch has been timed to coincide with the busiest season for Starlettos in Australia, the Spring Racing Carnival.
The Spring Carnival has as its highlight the world-famous Melbourne Cup Week, which attracts celebrities and fashionistas from around the world. For women, stilettos and high heels are integral to the Spring racing look, and to prevent those heels from sinking into the grass, Starlettos have, in recent years, become the must-have shoe accessory.
"Starlettos are fun as well as functional, so we could think of no better way to promote them at this important time of the year than to join with Wynbox to gamify purchases via Facebook. After all, Spring Carnival is all about fashion, fun and maybe having a little flutter. This concept combines all three," said Starlettos CEO, Ilde Naismith-Beeley.
Word of mouth referrals have been vital to the international growth in popularity of the flower-shaped stiletto heel protectors. They are an inexpensive accessory, for a specific demographic: people who wear high heels and stilettos. For this reason Ms Naismith-Beeley believes that social media is a great fit for the company - rather than big budget marketing campaigns.
"Not only does our new Facebook promotion make buying Starlettos easy and inject a fun element into the purchase process, but it also allows buyers to instantly notify their Facebook friends of their purchase."
"This type of social proof is one of the reasons for the success of our high heel protectors: friends telling friends about how they make high heels easier to wear on grass, on dance floors or other social events."
To see the Starlettos/Wynbox campaign in action, visit http://on.fb.me/13SpXnN
About Starlettos
Starlettos are Australian-designed high heel protectors that are loved by high heel wearers all around the world. They are easily slipped on and off stilettos and high heels to prevent them from sinking into grass at high-fashion outdoor events. With a non-slip base they provide the wearer with red-carpet confidence at events where high heels star: weddings, the races, proms and public ceremonies.
Starlettos are the brainchild of Australian Ilde Naismith-Beeley, and were the result of her own desire to wear beautiful shoes at her outdoor, on grass, wedding. In the process of creating Starlettos, Ilde solved three other stiletto-wearing dilemmas – getting stuck in grooves, slipping on dance floors, and potential damage to wedding dresses and long gowns.
More information about where to buy Starlettos, including stockists and mail orders is available at Starlettos.com
About Wynbox
Wynbox is an innovative Australian technology company, offering a smarter way for businesses to sell online. Having pioneered the Buy-to-Win concept, the business is now working with a number of brands and retailers to offer these exciting deals to their customers. The company is predominantly focused on Fashion brands and Hotels and it continues to grow as it brings on additional clients. http://www.wynbox.com
The Starlettos/Wynbox campaign is now live at http://on.fb.me/13SpXnN