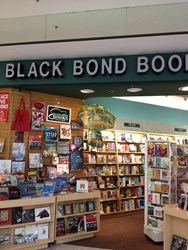 We welcome this opportunity to promote local independent authors.
Vancouver, BC (PRWEB) August 29, 2013
Black Bond Books and Vivalogue Publishing are pleased to announce Raindance: A Festival for Indie Authors. This one-day event will be held on Saturday, November 9 at Lansdowne Centre in Richmond. The festival, which runs from 10 am to 4 pm, will include a book fair, a series of workshops, and a book drive in support of Frontier College.
The book fair is free to the public and will include both book signings and readings. Children and young adult authors will be exhibiting from 10 am to 1 pm; adult fiction and non-fiction authors will be present from 1 pm to 4 pm. A catalogue of all featured books, including peer reviews, will be distributed to all attendees.
For $20, established and aspiring authors can learn how to turn their manuscript into a book or how to market their self-published book. For $50, writers can book a private ½ hour consultation with a professional editor.
Individuals wishing to reserve exhibition space, attend a workshop or book an editorial consultation, must pre-register at http://www.vivalogue.com/raindance_book_festival.html. Registration is on a first come, first served basis beginning September 10.
In addition to showcasing local self-published authors, the festival will raise funds and awareness for Frontier College. Founded in 1899, this non-profit organization recruits and trains volunteers to deliver literacy programs to children, youth and adults in communities across the country. Festival attendees will be encouraged to donate cash or gently-used books to supplement donations from participating authors and event sponsors. A post-festival reception, open to the public, will also serve as a fundraiser.
For Black Bond Books, which currently owns and operates 10 independent bookstores in the Metro Vancouver region, the Raindance Festival is a natural fit. "We welcome this opportunity to promote local independent authors," said owner Cathy Jesson. "We also know how important it is to help Canadians improve their literacy and increase their opportunities. Supporting Frontier College is an effective way of doing that."
Vivalogue director Lynn Duncan agrees. "As a specialty publisher, we are committed to helping independent authors gain access to some of the resources typically provided by trade publishers. This festival is one way we can contribute to the growing success of indie authors in our community."
Media Inquiries:
For more information about the Raindance Festival, contact:
Lynn Duncan
Vivalogue Publishing
604-522-6222/1-877-538-6222
lynn(at)vivalogue(dot)com
For more information about Black Bond Books, contact:
Cathy Jesson
cathybbb(at)hotmail(dot)com
For more information about Frontier College, contact:
Abby Robins
Director of Communications
416-923-3591, ext. 378
arobins(at)frontiercollege(dot)ca