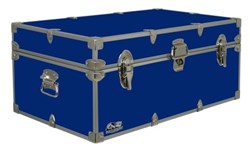 That's why Everything Summer Camp branches out to customers, like college students—because our products are useful for more than just summer camp
Boyd, WI (PRWEB) August 08, 2013
Lots of summer camp products are useful beyond a camper's stay at camp. Several years later, when summer campers have turned into college students, they'll be fortunate to have such a solid, sturdy, steel trunk to use for college. Camp trunks in a dorm room become extremely valuable.
Expensive and important items like your laptops, iPads, smart phones, textbooks, and other important documents are always at risk of getting spilled on, creased, or stolen. These items easily fit safe inside a trunk that got used for camp back in the day.
Not to mention that the money that gets put toward a camp trunk for summer camp will eventually become a valuable asset when heading off to college.
Camp trunks aren't the only summer camp item to bring to college. Laundry bags are essential to a clean dorm room and clean college student! And the best part—when the bag is empty it doesn't take up any space in the close quarters of a college dorm room. Mint and Bliss brand laundry bags are very stylish and very cool with fun colors and complimentary patterns.
"That's why Everything Summer Camp branches out to customers, like college students—because our products are useful for more than just summer camp," says Brian Sieglaff, the Operations Manager of Everything Summer Camp—a leading online outfitter for summer camp supplies.
You can find a bunch of cool camp trunks and laundry bags at Everything Summer Camp. They actually manufacture their own camp trunks and the laundry bags that they have to offer are both practical and durable.
A C&N Footlocker from Everything Summer Camp is more than sturdy enough to last much longer than the likely decade between camp and college. A C&N Footlocker is made to last a lifetime!
About Everything Summer Camp
Everything Summer Camp has been helping kids get ready for summer camp since 1987. Their wide selection of camping gear includes camp trunks and other camping supplies. Top selling items include water bottles, cot-sized bedding, rain jackets, insect repellent, iron on labels, and more. Known for their customer service and fast shipping Everything Summer Camp is recommended by more camps than any other camp outfitter.
Visit http://www.EverythingSummerCamp.com to learn more about camp footlockers, name labels, duffel bags, and camping supplies.