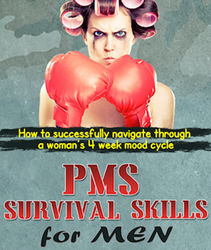 Each phase of the 4 week mood cycle is predictable because it coincides with a woman's monthly menstrual cycle.
Sydney, Australia (PRWEB) August 14, 2013
Finally, there is a personal development program that helps men become proactive in addressing the problems that arrive like clockwork each and every month with their partner's monthly menstrual cycle.
Australian trainer Gary P. Simmons is delighted to launch his newest lifeskill program 'PMS Survival Skills for MEN'. The goal of this program is to assist men to understand the woman in their life so they are able to create a loving, respectful and harmonious life partnership.
PMS can be a factor that contributes to the breakdown of marriages. This unique self help program has been specifically designed to educate men and eliminate the confusion and stigma around this important and often trivialized topic.
Gary P. Simmons has been researching this program for the past 30 years. He states: "Since I was 14 years old I had 37 girlfriends before I finally married. It took so long because I just couldn't figure out how my various partner's could be in love with me for half the month and then be angry and prickly for the other half."
"Failing to manage PMS symptoms can put an incredible strain on a relationship. I find this particularly sad when children are involved and the family unit is at stake. It took me decades to learn how to work through the recurring issues relating to PMS. I designed this program for any man who really loves his woman, values his family and who wants to improve his home life. Changing the way a man communicates with the woman in his life can transform a relationship."
This is achieved by providing men with a means to develop an insight into what is really going on behind their partner's tears, shouting and misunderstanding. Men learn to step up with confidence and address what is causing their woman to be concerned and frustrated.
Gary P. Simmons refers to a woman's fluctuating emotions as a "4 week mood cycle" and his program equips men to become capable of 'responding' to conflict rather than 'reacting' to it.
He also says: "Each phase of the 4 week mood cycle is predictable because it coincides with a woman's monthly menstrual cycle. In this program, I describe the 4 phases or weeks of the mood cycle as being Volcano week, Relief week, Love week and Restless week. I want to encourage men to empathise with how their partner is feeling so they don't take her moods and emotions personally and run for the hills, which is not conducive for creating a close and loving relationship."
The PMS Survival Skills for MEN training program is readily available to everyone regardless of geography as it is completely digitised and easily accessed from the internet. It consists of an eBook, a companion eWorkbook as well as an hour of audio training which will help guys find out:
1) Exactly what are the phases of her 4 week mood cycle and how they can best manage them.
2) How to respond when the going gets tough in PMS/Volcano week.
3) What men can do to gain respect from their partner.
4) What women really want and need from their man.
The program also assists men to understand why their significant other can behave erratically within the relationship and helps prepare them for the challenge of PMS week. Here is a short video example of PMS Survival Skills for Men.
"It is a great help to know that PMS is real and that being forewarned about what to expect is to be forearmed. One of the greatest benefits for me is that I now value and prioritise my relationship, deal with our problems and give my loved one the attention she needs during her 4 week mood cycle. Our relationship is going through a serious rebirth! Many thanks," says Leo Farrell, Sydney.
The PMS Survival Skills for MEN training program by Gary P. Simmons provides solutions for relationship problems with practical marriage tips. It helps men to understand why they may have an angry wife or a crying girlfriend. This new self help, personal development program from Australia has been designed to mentor and empower men to become a reliable, caring and practical partner. Guys who are equipped with these skills will know how to interact appropriately throughout Volcano week, Love week, Restless week and Relief week and be able to address and manage issues that arise from an emotional wife. The program can also assist men who are in a relationship with a woman who is suffering from PMDD.
To mark the launch of PMS Survival Skills for Men, Gary P. Simmons is giving a away a free eBook: 11 Tips to Survive PMS. For more information about PMS Survival Skills for Men, please visit http://www.pmssurvivalskills.com/ or like on Facebook at: https://www.facebook.com/pages/PMS-Survival-Skills-for-Men/459346280779213?ref=stream. You can also contact the creator Gary P. Simmons by phone: +61 2 9531 7648.