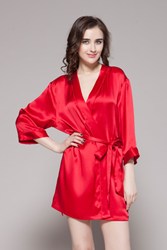 Warm up to the day in this handsome silk robe.
California (PRWEB) August 10, 2013
Lilysilk is a leader in the silk manufacturer in China. The bedding set and other accessories are famous for high quality but at affordable prices. The customization craft has been valued by their designers and workers. Just as what Lily Mei, a spokesman for lilysilk.com, mentioned in a customer meeting, "The satisfaction of our customers is our everlasting goal to achieve."
A research conducted recently on which pajamas is suitable for summer among thousands of net friends has shown that almost half of them prefer a silk nightwear in summer. Consider personal figure, not a few people worry that they can not find the suitable pajamas that is cozy and chic. Lilysilk launches the customization service when she realized that defect. They ask customers to leave the detailed information about nightwear demands. Different styles of collar, length of sleeves, various decoration patterns are all available.
Mr Deacon, one of its customers, has ever written down on the trustpilot reviews, "lilysilk is really good website, I like the pajamas that I ordered last week; it is really what I want." Since this service was launched, lilysilk has received many praises from its customers and the public.
About lilysilk.com
Lilysilk.com is a top level silk bedding manufacturer in China, which values silk benefits to everybody's skin and hair. They update their item range frequently, including silk doona cover, fitted sheet, flat sheet and pillow cases. Pure mulberry silk fabric, delicate craftmanship, free and speedy shipment, affordable price as well as the excellent customer service, are reasons for you to choose.
For more information, please visit: http://www.lilysilk.com .