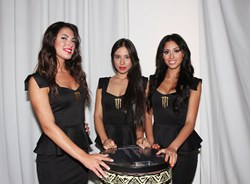 New York, NY (PRWEB) August 08, 2013
For the third day on August 3rd Java Monster's coffee | energy lounge recharged the guests that attended Lingerie FW runway shows including celebrities, musicians, models, designers, stylists, and influencers.
Some of the highlights from Saturday's event included a You! Lingerie Nursing + Maternity runway show featuring beautiful moms-to-be that rocked the show donning hot pink stilettos. Noe Undergarments followed and had an amazing 5th element vibe with the short neon colored wigs. The show ended with a runway show from Affinitas & Parfait featuring under garments that fit women of all sizes up to size K.
Cynthia Decker and Molly Hopkins from Lifetime's hit reality show Double Divas were front row at the Affinitas & Parfait runway show.
Lingerie FW hosted a VIP closing party to celebrate the week's inspirational lingerie intimate fashion apparel to benefit Bright Pink, featuring a Morris Jumel Museum Pop Up Exhibit: "The Loves of Aaron Burr: Portraits in Corsetry & Binding" by artist & couturier Camilla Huey.
See above viral video link to download the video and feel free to blog, post and share.
Check out Java Monster's Facebook page for Lingerie FW images and updates - facebook.com/JavaMonster. Complete information on the designers, program schedule and sponsors can be found at the official website, Lingeriefw.com.
About Java Monster
Based in Corona, California, Java Monster is coffee done the Monster way. Java Monster's premium coffee and cream offers the perfect mix of ingredients. Brewed with killer flavor and supercharged with the Monster Energy blend, Java Monster gives you half the caffeine of regular coffee and twice the buzz. Java Monster Personalities include Mean Bean, Loca Moca, Kona Blend, Vanilla Light, Irish Blend and Toffee; all created to satisfy whatever mood suits your lifestyle. See more about Monster Beverage Corporation including all of its drinks at http://www.monsterenergy.com .
About LingerieFW
Having successfully staked its claim as a power player in the greater fashion industry, intimate apparel now has its own Fashion Week platform to boot. Introducing LingerieFW, the first Fashion Week exclusively dedicated to intimate apparel brands. Encompassing lingerie, loungewear, sleepwear, shapewear, hosiery and lingerie accessories, LingerieFW (representing a $14 billion and growing market segment) presents an exciting industry hub designed to collectively give the growing force of intimates brands their due voice. Open to emerging and established brands worldwide, LingerieFW offers a high visibility, influential platform yielding maximum media exposure. Shedding a powerful spotlight on intimates designers and the industry as a whole, LingerieFW™ aims to make intimates brands household names just as their womenswear counterparts are. LingerieFW debuted for the FW13 season in February 2013 to a result of over 100+ million total Media Impressions generated, reaching audiences from North & South America to Europe and Asia. http://www.lingeriefw.com .