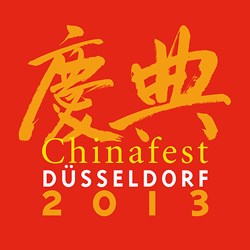 The Dragon Dances in Düsseldorf
Düsseldorf, Germany (PRWEB) August 09, 2013
China Festival is another unexpected cultural event to find on the Rhine River and reflects the growing influence of Chinese culture in Düsseldorf. Almost 300 companies are located here and almost 3,000 Chinese live and work in the city. On September 21, everyone is invited to celebrate at one of the largest outdoor festivals in a city that ranks No. 6 on a global list of cities with the highest quality of living (source: Mercer's 2012 Quality of Life Survey).
The festival's motto is "The Dragon Dances in Düsseldorf," and visitors are invited to enjoy the extensive program of Chinese musical and cultural performances, from 11:00 am – 10:00 pm on the town's square (Marktplatz), where red pagoda tents will be set up.
Acrobats and artists from Düsseldorf's partner city Chongqinq, China, will return after last year's stunning performances. In addition, there will be workshops on calligraphy, Chinese medicine, information on China as a travel destination, and plenty of culinary treats.
At the center of the bustling Rhine Ruhr Region, a network of 53 connected cities with a total population of about 6 million from 170 nations, Düsseldorf is already home to some of Europe's top annual international outdoor events, among them Japan Day and "The Biggest Fair on the Rhine," Carnival, and other major cultural and sports events.
China Fest 2013 is organized by Düsseldorf Marketing & Tourismus GmbH (on behalf of the city of Düsseldorf). For more information please visit http://www.duesseldorf-tourismus.de/en/our-top-events/chinafest-duesseldorf/.
The city's tourism office is offering hotel and city specials for many of the city's events throughout 2013, including "China Festival 2013". The travel package called "Düsseldorf à la Card" and can be booked right from the tourism office's website at http://www.duesseldorf-tourismus.de/en/hotel-packages/duesseldorf-a-la-card/. Prices start at €49 per night per person based on double-occupancy for a 2-3 star hotel in the city center and at €95 per person for a 4-5 star hotel. All packages include breakfast, a Düsseldorf Welcome Card (free public transportation within city limits, plus more than 40 free or reduced admissions to city attractions), and a city information package.
Düsseldorf Marketing & Tourism GmbH is the visitors and convention bureau of the city of Düsseldorf. Its responsibilities include tourism and city marketing, as well as conference and meeting marketing, hotel reservation services, fairs and convention services, city event ticket sales and advance ticket reservations. For more information, visit http://www.visitduesseldorf.de.
Düsseldorf Airport, Germany's Next Generation HubTM, offers several non-stop flights from US & Canadian cities (Atlanta, Chicago, Ft. Myers, Los Angeles, Miami, New York, Newark, Toronto), as well as convenient connections to many European cities. For more information about the airport, visit http://www.fly2dus.com.