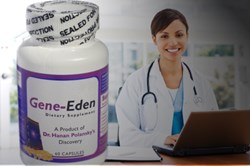 Nobody knows how bad Australia's flu season is going to be, and at least one flu vaccine brand is associated with bad reactions in children. - Mike Evans, polyDNA
Rochester, NY (PRWEB) August 11, 2013
Within the past week, more than 20 confirmed cases of influenza were reported, with cases increasing throughout Eastern Australia. Flu Season is expected to hit Western Australia in a matter of weeks (1). polyDNA suggests boosting the immune system and building immunity. This should be a matter of priority before flu season peaks.
Most Australians know that Flu season is an annually-recurring time period characterized by the prevalence of outbreaks of influenza (flu). Australian flu season begins in May and goes through October. It normally peaks in August, according to the Australian Dept. of Health and Ageing (2).
Associate Professor, Chris Blyth, from The University of Western Australia's School of Paediatrics and Child Health, mentioned that there is no indication of the likely severity of this flu season (1).
Because of this, many health professionals urge people at risk, such as the elderly, children under five, and people with chronic illness, to get the flu vaccine. However, at least one flu vaccine brand had safety signals (an indication of an unexpected drug safety problem) associated with it.
Specifically, a study published in July, 2013 in the journal Drug Safety, found that Fluzone® was associated with febrile seizures (a convulsion associated with a significant rise in body temperature) in young children according to U.S. VAERS data (3).
"Nobody knows how bad Australia's flu season is going to be, and at least one flu vaccine brand is associated with bad reactions in children. The good news is that there is a natural anti-flu remedy proven to be effective against latent viral infections. For people that want to boost their immune system before flu season, we recommend Gene-Eden-VIR." – Mike Evans, polyDNA
Gene-Eden-VIR is designed to fight against latent viruses. A recent post marketing clinical study showed that Gene-Eden-VIR is safe and effective. Up to 70% of those studied reported a decrease in viral symptoms. (4)
To learn more about Gene-Eden-VIR, and how it can boost the immune system against the latent flu virus, please visit http://www.gene-eden-kill-virus.com/.
References:
(1) http://www.healthcanal.com/infections/flu/41369-time-running-out-to-get-ready-for-flu-season.html
(2) http://www.health.gov.au/internet/main/publishing.nsf/content/cda-surveil-ozflu-flucurr.htm
(3) http://www.ncbi.nlm.nih.gov/pubmed/23657824
(4) http://www.cbcd.net/Gene-Eden-VIR-Clinical-Study.php
###
About polyDNA
polyDNA is a biotechnology company that develops dietary supplements using the unique scientific method developed by Dr. Hanan Polansky's, which is based on Computer Intuition.
In addition to his unique scientific method, Dr. Polansky published the highly acclaimed scientific discovery, called Microcompetition with Foreign DNA.
The discovery explains how foreign DNA fragments, and specifically, DNA of latent viruses, cause most major diseases. polyDNA developed Gene-Eden-VIR, an antiviral natural remedy that helps the immune system kill latent viruses.