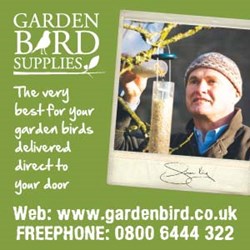 Simon King is scheduled to appear on BBC Gardeners' World
(PRWEB UK) 8 August 2013
Born in Nairobi, Kenya, Simon King is no stranger to TV appearances. King has been making impassioned forays into exploring and explaining the mysteries of nature to enthralled audiences since age 13, during his involvement with the programme Man and Boy, hosted by famed naturalist Mike Kendal.
Since then Simon King has gone on to develop, film, direct and present a prolific collection of well-loved (and award winning) TV shows, including Springwatch, Planet Earth, Blue Planet, Big Cat Diaries and the more recent African Cats for Disney. Simon's passion for the natural world and status as a wildlife expert is firmly cemented with Brits who, thanks to pioneers like Simon King, are able to gain an insight into the fascinating world of animals and birds exploring their natural habitats.
Whilst best-known for involvement in larger projects furthering public understanding and insights into nature, he has proven time and time again his commitment, and genuine enthusiasm, for cultivating knowledge and expertise at the community level.
As Garden Bird Supplies' resident expert, Simon King cuts an esteemed and respected figure within the birding community. Sharing advice through seasonal blogs and features, he helps enthusiasts attract a variety of garden birds and wildlife to their back-doors.
Simon King's association with the company has proved perfect match, offering birders the opportunity to supplement their browsing with advice from a true and trusted professional.
As founding members of the Birdcare Standards Association, Garden Bird Supplies possess genuine commitment to sourcing high quality ingredients, housing a comprehensive range of bird food mixes, live bird feed and suet bird foods under their Ultiva brand. This accompanies an extensive collection of bird-care accessories, gift lines, and bird feeders, all thoroughly tested for safety and effectiveness. With their recently revamped site offering a fast, efficient shopping experience, the site is packed full of useful tips and inspiration to help the British public attract a wonderful array of seasonal birds every month of the year.
Avid birders can find both Simon King and the Garden Bird Supplies team at the forthcoming Rutland Birdfair, from 16-18th August. This year marks the event's 25th anniversary, and Simon together with Garden Bird Supplies will be hosting a new and unique marquee. Tickets to the Rutland Bird fair can be purchased online saving, discounting £2.50 off the door price.