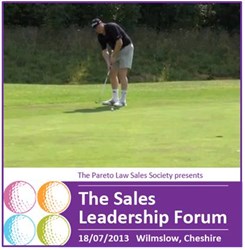 The Pareto Sales Society provides a versatile platform for thought-leaders within the industry to discuss and challenge best sales practice.
Wilmslow, Cheshire (PRWEB UK) 9 August 2013
Members of the Pareto Sales Society celebrated the good weather as the organisation held their 3rd exclusive Leadership Forum, opening at the company's head offices in Wilmslow on 18th July and concluding with an Inter-Company Golf Challenge, drinks and a BBQ at the idyllic De Vere Mottram Hall Hotel in Prestbury.
The event was chaired by Pareto's own Bryn Thompson, Sales Director of Managed Services, with the primary focus upon issues impacting sales leadership and management in UK business.
"The Pareto Sales Society provides a versatile platform for thought-leaders within the industry to not only discuss and challenge best sales practice but actively learn from the success and experiences of others from across a diverse range of industry sectors," Bryn Thompson explains.
Bryn was closely followed by guest speakers for the day including Tony Douglas, Sales Director of the Edinburgh Institute and Mark O'Keefe, National ITS Sales Director for Ricoh. Both brought to the event a wealth of experience from differing backgrounds in management within the sales arena, offering presentations that stimulated debate around trends, challenges and concerns facing sales leaders in the current business marketplace.
Tony's presentation drew upon his extensive experience delivering focused sales and marketing support to SMEs across Scotland, developing the concept of a partnership between sales organisations and universities in order to pioneer a highly skilled and tailored future workforce comprising of school leavers and university graduates, readily equipped with the tools required for success in the world of sales. Meanwhile, Mark concluded events with reflections upon the need for growth and development of sales coaches to continue shaping the success of world-leading sales teams.
The event welcomed representatives from 40 of Pareto's most valued clients, the largest attendance to the Sales Society to date, all of whom engaged with lively debate designed to help shape the future of sales leadership.
The event concluded at the picturesque grounds of the hotel, which also played host to the 2013 European Senior's PGA Championship this year. Team Ricoh were the successful winners of the InterCompany Golf Tournament, taking the title at the closing presentation and BBQ at the end of the day.
About Pareto Law:
Pareto Law is the UK's biggest and most successful sales enhancement company: the authority on sales, no less, since 1995. Pareto brings companies the 20% of the sales team that makes 80% of the difference.
The Pareto Effect can be experienced in many ways and it can have a remarkable, measurable effect on your business. Pareto delivers this effect through four key elements – Sales Recruitment, Sales Training, Executive Recruitment and Sales Enhancement, bringing your business sales assessment and accreditation solutions to deliver sales excellence.