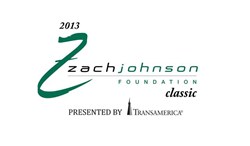 "This Foundation will fulfill a dream of mine and Kim's to give back to Cedar Rapids in a long-lasting, meaningful way," said Masters Champion Zach Johnson.
Dallas, TX (PRWEB) August 09, 2013
IonLoop is proud to play a part in the premier event for the Zach Johnson Foundation by supplying custom Zach Johnson IonLoop bracelets to all the players this past Monday. The Zach Johnson Foundation Classic is a two-part event: a fundraiser gala and auction for sponsors and participants and a Pro-Am charity golf tournament.
"This Foundation will fulfill a dream of mine and Kim's to give back to Cedar Rapids in a long-lasting, meaningful way," said Masters Champion Zach Johnson.
Last year's golf tournament drew a crowd of 3,500 at Elmcrest Country Club and brought many big names, both on and off the golf course. The Zach Johnson Foundation Classic and Gala raised $1 million during its second event in 2012; the final tally for 2013 has not been announced but it is expected to break the prior year's astounding results. The Zach Johnson Foundation fully funds a pilot program at Van Buren Elementary that has been developed in coordination with the Cedar Rapids Community School District and United Way of East Central Iowa. Kids on Course inspires in students the confidence to realize their academic and individual potential by providing creative and inventive opportunities that connect students and families to community and school.
"Zach is such a great guy that when we were asked to become involved we couldn't say no," said Melissa Gotfredson IonLoop CEO.
"We are always looking for a way to give back to the golf community since that is where Ionloop sport bracelets gained such great momentum when the company was founded a few short years ago," said Gotfredson.
In today's era of ever-expanding technology—UV rays, cell phones, BlackBerrys, smart phones, and in fact all electronic devices that we are surrounded with each day – give off high levels of positive ions. IonLoop bracelets help your body fight back with one of the highest levels of negative ion content in the industry—which is why many of the top professional golfers in the world choose to wear IonLoop sport bracelets.
About IonLoop http://www.ionloop.com
IonLoop® negative ion bracelets, wristbands and necklaces are a great first-step in counteracting the harmful effects of positive ions. The negative ion properties are manufactured into the silicone bands themselves and will not lose their effectiveness over time. Most of the bracelets and necklaces also contain two small but powerful magnets that are carefully assembled so that they alternate the polarity of each magnet; we believe this manufacturing process may be adding another dimension to the potential stimulus that the magnets may have on the chemistry of the human body. Ionloop is proud to have golf industry leader Ahead as their exclusive distribution partner for the golf industry. Please go to http://www.aheadweb.com to learn about this great company.
Keep your eyes out for IonLoop bracelets during PGA Tour events and stay in the Loop!
For additional information on IonLoop technology and to view all of the other IonLoop bracelets, visit http://www.ionloop.com.