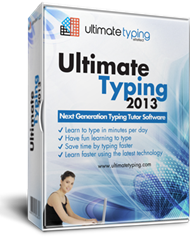 With Easy Learn, explicit instructions are imparted at each step and video tutorials guide users from one typing strategy to another with relative ease.
New York City, NY (PRWEB) August 13, 2013
Ultimate Typing, the typing tutor software recently released by eReflect, does not merely aim to enhance the typing skills of learners, but also targets advanced typists, including teachers that might not yet have mastered all the drills associated with touch typing. The eReflect development team explicitly stated in today's statement that Ultimate Typing is designed to help improve the typing skills of both beginners and professionals through the cutting edge technology integrated within the software. This statement is designed to answer questions recently received by eReflect as to whether the software can benefit advanced typists as well as beginners.
The development team stressed that touch typing is a skill that must be perfected in order to achieve success in school and in the workforce, and that this skill can be achieved by taking advantage of the range of techniques and tools in their latest software product. Ultimate Typing 2013 provides insight into basic and advanced typing techniques by imparting valuable practical and theoretical knowledge while also offering an extensive range of exercises. This claim was recently validated by the reputed review site, Neuro Cube, noted the eReflect team, pointing out that the reviewer was highly impressed with the learning outcomes achieved within a short time after starting to use Ultimate Typing.
The Ultimate Typing development team states that they have designed a system that only requires a minimum of seven minutes per day for a period of two weeks. Users that are skeptical regarding this claim can be reassured that it is not without merit, as the claim was recently verified by the reviewer at Neuro Cube. The reviewer personally tested the software and revealed that the claim indeed holds true.
In today's announcement, the development team highlighted that Ultimate Typing offers its users the benefits of the Easy Learn technology incorporated in the software. With Easy Learn, explicit instructions are imparted at each step and video tutorials guide users from one typing strategy to another with relative ease. This feature, as the Neuro Cube reviewer noted, allow users to get training from a personal touch typing expert who is able to provide valuable advice as the user progresses.
The development team states that competitor software currently available on the market fails to provide monitoring technology that allows customizable exercises to be designed, whereas Ultimate Typing offers its users this distinctive feature as well. It is this feature in particular, stated the eReflect team, that answers the recent questions received from more advanced typists. Because the software adapts to the skill level of each user, beginners are provided exercises that focus on developing their skills and competency levels, while experts and teachers are provided complex and challenging exercises that help them move their current speed and accuracy levels even higher.
Teachers of touch typing are often quite skilled in the basics of typing, with high personal typing speed and accuracy, but they might be unfamiliar with ergonomic techniques and therefore prone to stiffness and soreness in their joints. The development team notes that Ultimate Typing is not merely focused on enhancing typing speed and accuracy but also imparts relevant knowledge regarding finger placement and hand positioning. This knowledge can greatly relieve even expert typists from pains that are associated with typing for long hours at an end, and this is valuable information that a teacher can pass on to their typing students.
Teachers and learners can both benefit from an extensive range of exercises while they learn to type through the typing games offered by the software. Furthermore, Ultimate Typing offers access to more than 500 free e-books, and also provides Wiki Connect technology through which users can import data from the internet and use it within various exercises.
eReflect concluded today's statement by acknowledging that it was a complex task to design software that caters to the need of users at all skill levels, but they expended considerable time and effort in designing software that achieves remarkable results, for beginning typists and typing teachers alike.
For more details on Ultimate Typing™, please visit http://www.ultimatetyping.com/.
About Ultimate Typing™
Ultimate Typing™ software is designed specifically for the improvement of typing skills. Created by eReflect, a world leader in e-learning and self-development software, Ultimate Typing™ has been informed by the latest developments in the science of touch typing.
Since its creation in 2006 by Marc Slater, the company has already catered to over 112 countries all over the world, offering products with the latest cutting-edge technology, some of which are among the world's most recognized and awarded in the industry.