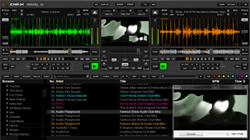 "A major focus of the Dex 2.6.3 update was the user interface," says Digital 1 Audio's GM Ryan Sherr.
Clearwater, Florida (PRWEB) August 09, 2013
"A major focus of the DEX 2.6.3 update was the user interface," says Digital 1 Audio's General Manager Ryan Sherr. "We tested a few designs with our customers before finalizing the skin, which we feel is far easier to navigate and makes better use of DEX 2's mixing capabilities." Sherr continues,"In addition, we've added support for 12 new DJ controllers and have re-implemented all previously supported controllers. DJ controller support has been greatly fine tuned, so controllers simply work better. The 'key field' is also now supported in the DEX 2 library, so harmonic mixing is possible. We invite anyone that's tried PCDJ DEX 2 before to download the trial; I think DJ's will find DEX 2.6.3 an excellent all-in-one mixing software solution."
Here are some of the notable features and/or improvements in DEX 2.6.3:
•New GUI "Skin" at many resolutions (very high resolutions supported)
•Advanced searching (separate search terms by spaces, search/filter by bpm/year/key)
•Harmonic mixing: support for key in Circle of Fifths or compatible formats (in ID3 tags)
•Re-implemented MIDI buffering (major stability improvement)
•Improved support for all supported DJ controllers
•New DJ controllers supported include:
Novation Twitch
Numark NS6
Numark Quad
Reloop Contour IE
Reloop Mixage CE
Reloop Digital Jockey 2 CE
Pioneer XDJ-Aero
Pioneer DDJ-Ergo
Pioneer DDJ-WeGo
Hercules DJ Console RMX2
Hercules DJ Control Air
Hercules DJ Control Instinct
PCDJ DEX 2.6's manufacturers suggested retail price is $279, but is currently available for only $179 for a limited time (If you own an existing PCDJ software product call for special upgrade pricing.)
For more product information and a free evaluation version of PCDJ DEX 2.6 please visit:
http://www.pcdj.com/dex-2/
For marketing or dealer inquiries, Contact:
Digital 1 Audio
611 S. Ft. Harrison Ave., #317
Clearwater, FL 33756
877-999-7235 ext 105
rsherr(at)pcdj(dot)com
Minimum:
Windows: 7 or 8
Mac: OSX 10.6 (Snow leopard) or greater
CPU: at least 2GHz processor with 2 cores or more (Mac: Intel based CPU with OSX 10.6 (Snow Leopard) or greater required
RAM: Minimum 2 gig
Video card: Dedicated card with at least 256mb required for video mixing.
DirectX or ASIO compatible sound card (Mac: Core Audio)
40 MB available on the hard-drive
Recommended:
2.5GHz Intel Core 2 Duo / Core 2 Quad / Core i3/i5/i7 / Amd Phenon
4 GIG RAM or Better
Video card: Dedicated card with at least 512 mb
DirectX/ASIO compatible multichannel soundcard (Mac: multichannel Core Audio soundcard)
200 MB free on the hard-drive
Since 1999, Digital 1 Audio/PCDJ has been recognized as a leading developer and manufacturer of DJ and Karaoke live performance software. More than 80,000 professional DJs around the world now spin with their computer using one of company's entertainment products.
Make Sure to Insert Video With This – Here is the Link:
http://youtu.be/dndIXDgC7P4