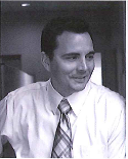 It's an honor to join the Compass team. I'm excited to hit the ground running and contribute my experience and insight for Compass' continued growth and success.

-Chad Pelley
Cedar Rapids, IA (PRWEB) August 27, 2013
Compass Commercial Services has been growing and literally building in strength and numbers since its start-up in 2008. The growth rate of the company has exceeded 200%+ growth each year in the past two years alone, and has been recognized by the Corridor Business Journal as one of the fastest growing companies in the corridor. With continued development acquisitions and exciting projects hitting the drawing table, it became obvious that to continue with its tremendous success the Compass team would have to expand in areas that would set it apart from others.
Chad Pelley joined the Compass Commercial Services team in August. He has been a licensed Engineer since 2006 and holds a strong background in all aspects of project development. Chad's past experience includes master planning, mixed use site development, storm water master planning and project management. His primary focus has been large scale, mixed use developments but he also has experience across the board in residential, commercial and industrial design.
Chad brings a diverse background and strong work ethic to the Compass team and will add to the immediate skill level by accomplishing more tasks in-house. This will allow for a faster accomplishment rate while holding to quality and at the same time, bringing unique perspective and initiative to see projects through all while looking ahead to what's next. He will quickly become a vital member to a small, creative partnership of hard work, dedication and focus on the high-end result and continued success of Compass Commercial Services.
About Compass Commercial Services:
Compass Commercial Services is a full-service General Contracting and construction management firm in the Cedar Rapids area specializing in a wide range of commercial construction projects including interior and exterior renovations, remodeling, building additions and the complete construction of new buildings. As a TRUE design-build firm, Compass Commercial Services is poised to complete projects from the ground up. From the initial design through the entire building process, customers have the advantage of working directly with one company and a team that is structured to deliver final projects on time and on budget.