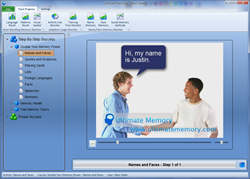 These lessons will guide users regarding various techniques that can be adopted for sharpening cognitive skills.
New York City, NY (PRWEB) August 14, 2013
eReflect is known across the globe for being a leader within the self-improvement software industry and their latest initiative takes education a step further to help users in improving their memory. In their statement today, the eReflect team revealed that the software company is now publishing free courses for improving memory via slideshare.net.
The team highlighted that these online courses have been initiated in order to highlight the key concepts introduced within the Ultimate Memory software system. The 2013 release of Ultimate Memory software was recently introduced by eReflect team and the success of the product is largely due to the advanced technology integrated into the software that clearly outlines the necessary knowledge for improving cognitive and memory skills.
The team members began today's statement by emphasizing the importance of enhancing memory skills, and stated that a strong memory can allow users to learn and recall all types of information with relative ease. eReflect encourages everyone to make every effort possible to improve memory, and in order to aid users eReflect has provided these 10 lessons for enhancing memory. These lessons will guide users regarding various techniques that can be adopted for sharpening cognitive skills.
The team members elaborated upon the contents of the lessons and stressed that these lessons focus on various aspects concerning memory improvement including cognitive exercises, mnemonics, and visualization. Detailed information is provided regarding the different techniques that can be adopted by users and the comprehensive guidelines serve as a valuable tool for beginners in memory improvement.
The development team further stated that these lessons do not merely focus on memory improvement techniques but also emphasize that a proper diet and good rest can prove to be vital in improving cognitive skills.
The team concluded their statement today by stressing that memory cannot be successfully improved through a one-off session and that it requires continuous effort and time to get long-term memory benefits. These lessons can be a starting point for users that want to ensure that their memory remains strong far into the future.
For more information on how Ultimate Memory software can help, please visit http://www.ultimatememory.com.
About Ultimate Memory™
Ultimate Memory™ is the market's leading memory improvement software package.
Scientifically proven to improve memory with as little as ten minute's user per day, Ultimate Memory™ is also backed by an iron-clad guarantee.
Containing many innovative strategies, tutorials, tips and exercises, users benefit from a myriad of varied ways to learn.